Letchworth May tournaments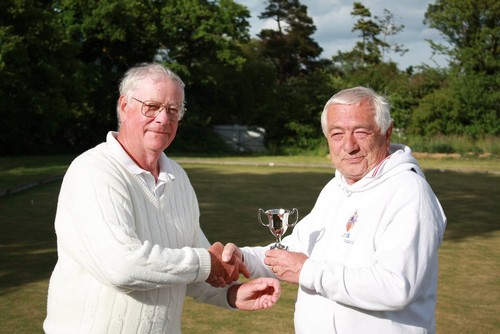 Mike Huxley receiving Letchworth CC first AC handicap trophy (Photo: Peter Ross)
by Patricia Duke-Cox at Letchworth
10-13 May 2011 (
AC - Handicap
)
Letchworth CC has entered the Fixtures Book with 5 events this year. The first two were midweek Association handicap followed by Golf handicap croquet events.
Results for the Association event are: 1st place Clive Goode 5 wins, 2nd place Patricia Duke-Cox 4 wins and beating John Lonsdale in tie break for 2nd place, 3rd John Lonsdale.
Results for the Golf event are: 1st Mike Huxley 10 wins, 2nd Peter Ross 8 wins and beating Ian Mantle in a tie break for 2nd place conceding 58 points against 65, 3rd Ian Mantle 8 wins. Picture shows manager Duncan Hector presenting trophy to Mike Huxley.
See a full report in the June Gazette.
---