The Sue Mackay Report on the 2011 Inter-Counties Championship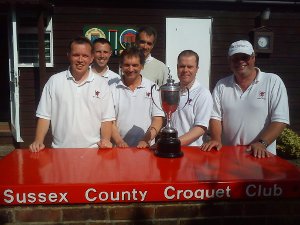 Somerset : Kris, Marcus, David, Roger, Ed and Jim (Photo: Kristian Chambers)
by Sue Mackay at Southwick & Compton
9th June 2011 (
AC - Championships
)
Somerset won the 97th Inter-Counties Championship, retaining the trophy with a 100% record of ten match wins, one better than last year. Their team of Kristian Chambers, Ed Duckworth, Marcus Evans, Jim Field, David Goacher (c) and Roger Tribe proved too good even for Nottinghamshire, who had started the tournament with four straight 3-0 wins and whose only loss was 1-2 to Somerset. The top Nottingham pair of James Death and Patrick Hort remained unbeaten throughout the tournament, despite a scare against bottom-of-the-table Sussex in their last match. Somerset team captain David Goacher dedicated their win to Roger Jenkins, a previous stalwart of their team, who had suffered a relapse of a spinal abscess and been re-admitted to hospital. The trophy was presented by Colin Irwin, standing in for John Solomon, who was unable to attend because his wife was unwell.
In a first for the Counties, both the First Division and Second Division champions finished the tournament with 10 wins out of 10. The Second Division was won by Essex, who proved that their brief exit from Division One was a mere blip. Their team of Robert and Susan Fulford, Michael Heap (c), Jonathan Hills, Nick Steiner, Jack Wicks and Guy Willard played superbly, and provided some of the most fascinating games for the spectator. Robert Fulford played throughout at third pairing with his wife Susan, who is a 22 handicap with almost no croquet experience. Interesting peeling turns from Robert were commonplace, and the pair won most of their games. In one finish, having accidentally jawsed the pelee in rover, Robert jumped rover himself, set up a posthumous rush peel with a cannon and ended up with a perfect rush to the peg. Simples!
Essex thus won promotion back to the First Division, along with the Channel Islands and Gloucestershire, who finished on 8 and 7 match wins respectively (though both won 21 games). It was good to see Matt Burrow making a return for the Channel Islands, who now have a very strong team. Sussex, on the other hand, were without Rutger Beijderwellen and Ian Vincent, and Dorset were without Pete and Dave Trimmer. Both teams struggled in the First Division and were duly relegated, with Sussex failing to win a match and Dorset's only win coming against Sussex.
The third relegation spot, however, was still in doubt as the final day started, with several teams in contention, even those on 5 wins who had thought themselves safe. Surrey were vulnerable, as they had a bye in the final round and were only on four wins, with their last match against Nottinghamshire. They had Stephen Mulliner playing for them on Tuesday, however, and the score fairly rapidly became 1-1. The deciding match between Richard Huxley and Gary Bennett (Notts) and Don Beck and George Noble (Surrey) ended in a golden hoop situation with both teams on 4-back and 1-back when time was called, but eventually Notts won +1T. Surrey's one game win was enough to keep them up, however, and in the end the relegation battle came down to the final match between Lancashire and Middlesex - whichever team lost would be relegated. Bob Burnett, playing in his last 'Counties, pegged out to put Lancashire 1-0 up, and shortly afterwards the Middlesex pairing of Gabrielle Higgins and Eugene Chang managed to level the score. All now rested on the final game, which both sides seemed determined to lose. As time was called Middlesex was on penult and rover and Lancashire was on 4-back and peg, but David Openshaw managed to peg himself out to keep Lancashire in Division One by the proverbial +1T.
Warwickshire won the wooden spoon this year, with only one match win. There were a few comments that Sam Tudor might have been reduced to receiving advice, as he was seen to be playing at one stage with his one year old son Cadwallader strapped to his back. Similar light hearted claims were made on the side lines by Nottingham in their match against Surrey, when toddler Edward Patel started rushing around after his Dad, pointing very determinedly to the balls he was supposed to play, though they did ask Samir to replace a ball on the yard line that had been 'nudged' a few feet nearer by the ever helpful Edward!
There was a problem starting a game on Saturday after tea on lawn 7 at Southwick, because one of the afternoon games had not finished. There was a long impasse between Dave Mundy of Gloucestershire and Rod Ashwell of Yorkshire. Both were on 4-back, with the other two balls pegged out, and unfortunately Colin Irwin, the ROT, had left. Manager Chris Williams marched onto the lawn and told the players that something would have to be done to break the impasse, because the next game needed to start. In the meantime the match which was due to go on that lawn was moved to the spare slot on lawn 10. The impasse was quickly broken, but amusingly the match which had been moved got held up by the double bankers and could have started on the 'proper' lawn after all with only a slight delay.
All three David Nicholsons were playing at Southwick on Tuesday, playing for Dorset, Hampshire and Lancashire, the latter playing as usual as Dave Nick. Martin Burger and Joe King were also playing in their famed Burger King pairing for Berks/Oxon. They won 4 out of 7 with scores of +2, +1, +1, +1 including two golden hoops and two one ball endings.
The first day was bitterly cold and windy and was summed up by Samir Patel's posting to the Nottingham List: "Some chaps won. Some chaps lost. All chaps got cold" Dean Bennison did not exchange his bowler hat for his Stetson (a sure sign of sunshine at the 'Counties) until the final day, and the wind was so strong on the first day that the Lancashire team decided to abandon their usual game of pitch and putt during their bye. Having hit a bus and a car on their previous outings it was decided they would be putting the public too much at risk.
Manager Chris Williams was wearing his CA Archivist hat and was going round trying to confirm a list of CA Silver Medal winners to go on the CA website's Roll of Honour. In the process at least a dozen players discovered for the first time that they were eligible to claim the medal!
As usual the 'Counties was played in great spirit with a lot of banter and camaraderie and there were some truly appalling shots as well as some immaculate triples. The catering at both Southwick and Compton was superb as always, and the lawns were in an excellent condition. All in all it was a wonderful festival of croquet.
---