Mounfields rule at Letchworth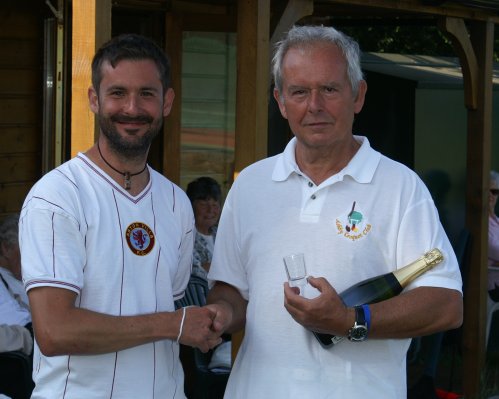 Nick Mounfield presents father Ray with spoils for winning (Photo: Tim King)
by Nick Mounfield at Letchworth
2011-06-04 (
GC
)
Report
Competed by eight players in the handicap range 0-2, the 1st Letchworth GC Open was won by Ray Mounfield, who finished with six wins from seven games. Simon Carter and Tim King finished on five wins apiece, with Duncan Hector and Nick Mounfield each on four wins.
In winning, Ray proved that precise, careful play can be more than a match for spectacular clearances and long-distance hoop runs - especially on super-fast lawns, which show no forgiveness for over-hit hoop approaches!
Other highlights saw Duncan Hector's handicap reduce from 2 to 1, and young Tim Race produce the kind of ability to suggest that it's only a matter of time before he whizzes up the ranking and starts collecting silverware.
A big thank you to all the players for making the event a success, and to the Letchworth groundsmen for ensuring the lawns and hoops lived up to the occasion.
Nick Mounfield (Tournament Manager)
Results
| Name | RM | SC | TK | DH | NM | JR | DT | TR | Games | Hoops for | Hoops against | Net hoops | Position |
| --- | --- | --- | --- | --- | --- | --- | --- | --- | --- | --- | --- | --- | --- |
| Ray Mounfield | | 7-6 | 3-7 | 7-4 | 7-5 | 7-6 | 7-3 | 7-3 | 6 | 45 | 34 | 11 | 1 |
| Simon Carter | 6-7 | | 7-6 | 7-5 | 1-7 | 7-6 | 7-3 | 7-5 | 5 | 42 | 39 | 3 | 2= |
| Tim King | 7-3 | 6-7 | | 4-7 | 7-3 | 7-4 | 7-4 | 7-4 | 5 | 45 | 32 | 13 | 2= |
| Duncan Hector | 4-7 | 5-7 | 7-4 | | 7-5 | 7-2 | 7-4 | 6-7 | 4 | 43 | 36 | 7 | 4= |
| Nick Mounfield | 5-7 | 7-1 | 3-7 | 5-7 | | 7-5 | 7-2 | 7-5 | 4 | 41 | 34 | 7 | 4= |
| Jeff Race | 6-7 | 6-7 | 4-7 | 2-7 | 5-7 | | 7-0 | 7-6 | 2 | 37 | 41 | -4 | 6 |
| David Tutt | 3-7 | 3-7 | 4-7 | 4-7 | 2-7 | 0-7 | | 7-5 | 1 | 23 | 47 | -24 | 7= |
| Tim Race | 3-7 | 5-7 | 4-7 | 7-6 | 5-7 | 6-7 | 5-7 | | 1 | 35 | 48 | -13 | 7= |
---