Opens - Thursday Commentary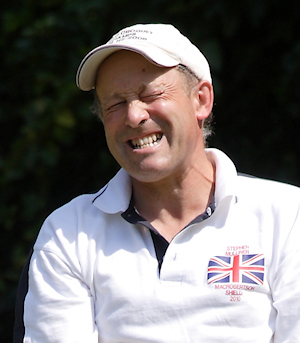 Stephen Mulliner (Photo: Samir Patel)
by Samir Patel at Surbiton Croquet Club
07/07/2011 (
AC - Championships
)
Thursday morning - more overnight rain, but currently dry.
The opening matches are:
Jamie Burch v Robin Brown - Resuming from 1-0 to Brown
Stephen Mulliner v Paddy Chapman - To begin
Robert Fulford & James Death v Graham Gale & Louise Bradforth to resume with Fulford & Death 1-0 +
Rutger Beijderwellen v Jeff Dawson -Resuming from 1-0 - to Beijderwellen
Andrew Johnston, Kevin Beard - Resuming from 1-1
David Goacher & Dave Kibble v Nick Parish & Gabrielle Higgins (Y doubles) and Campbell Morrison v Nigel Polhill (Plate)
Tim Wilkins v Dennis Bulloch - To begin
I've been out for a practice, and the rain has made the lawns really quite easy. About 11 seconds, with little excuse for break-play errors.
10:37
It's started raining quite hard, in fact play on lawn 3 appears to have been briefly suspended.
10:48
The rain broke briefly, during which Rob nipped off a quick TP to win the doubles quarter final on lawn 2. It's now raining again.
10:49
Paddy and Stephen look to be playing Super Advanced - at least TV1
10:50
He's gone to 4-back in two breaks, and is now on a delayed TP
10:54
Fulford & Death bt Bradforth & Gale +6tpo(D) +26tp(F)
Brown bt Burch +6 +26
12:01
Various matches have started, including Patel v Rothman, Death v McIntosh and Bamford v Hoopgood.
I've stopped play due to puddles, Reg was late so their's hasn't started.
12:51
The rain has now stopped and it's begun to brighten up a bit.
Lawn 1 - Looks like first break to Reg
Lawn 2 - They've stopped for lunch, so I think it's 1-1
Lawn 3 - Ben has hit and gone to 4-back against me; I've missed the long lift against a spread.
Lawn 4 - Hamish had the first break, but it seems to have been James ever since.
Lawn 5 - I've only seen Rob on the lawn
16:21
If anyone is still reading, you may want to look at the other news items where I've updated the current scores. Since the last update, I've had lunch, four breaks and a pint! :)
16:38
Thanks for the notes of encouragement. The error on the singles draw has been fixed. Paddy beat Stephen -26tp +14otp +18tp in what seemed to be a crowd-pleaser.
16:41
Headline news is that Reg Bamford has lost the first against James Hopgood. I'll find out more in due course.
Paddy has won his first against Keith, but Keith is having the first break in the second.
Bulloch/Maugham is still in the first game. Bulloch is 2 and 4-back with the innings, after Dave got cross wired from a ball on a TP (and is now for 6 and penult).
Rutger looks to be in a break to win.
Andrew Johnston is just winning the first against Robin Brown.
17:18
Bamford has taken the second against Hopgood.
Maugham has taken the first against Bulloch.
Beijderwellen has beaten Patmore
17:20
Bamford v Hopgood
James had the first break to hoop 6 with a poor leave (remember that they're playing TV3)
Reg hit, and picked up his break. He got hampered after hoop 1, but hit.
17:42
Reg went to 1-back, and James has missed. Reg sextuple attempt.
17:50
Bamford SXP is still in progress, 2 peels done, now approaching 5
17:55
The US flag has been extracted from the flagpole. It was hoisted with enthusiasm on July 4th and got stuck in the mechanism. The Union Jack is back, alongside flags of the club, CA and EU.
17:56
Aiton v Chapman update from a recent referee: Game all. Keith is 2 and 4-back. Chapman is 1 and break, currently for 4. Keith couldn't get a ball to 2 after a poor rush picking up his break off the spread, and didn't roll-up well enough.
17:56
Maugham is on a TPO in the second.
17:58
Reg is approaching 1 back with 3 peels done
17:59
Dave has jawsed the third peel of his TPO en-route to 3-back.
18:09
Reg has peeled penut before 4-back
18:14
Reg is approaching rover with one peel to go
18:17
Reg is still on the lawn; can't see any issues though
18:20
Reg has been joined by a referee. Looks to just have a 2 foot take-off to get a rush to the peg
18:20
Unclear what the fuss was about. Reg has pegged out. 2-1.
18:41
Good bit of TV2-ing on lawn 2.
Turn 1 Robin shoots to East boundary, but fails to reach (ends up in the yard area). Robin then goes to check the laws, and returns to the lawn, and apparently tells Andrew that he gets to choose where to put the ball.
Andrew elects 2 feet out of corner 1, takes his rush to hoop 1 and goes to 1-back.
Correct ruling should have been that Andrew has the choice of leaving Robin's ball where it ended (yarded in), or having it placed on a spot on the yard line of Robin's choosing.
18:42
Aiton has beaten Chapman
---