2011 Bestinvest WCF Golf Croquet World Championship underway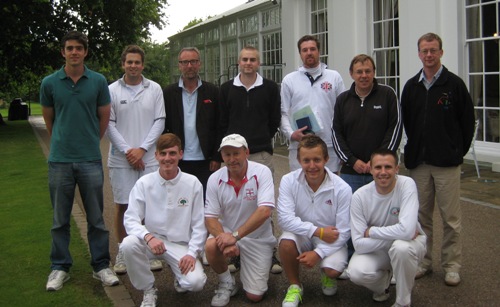 England players (Jeff & Lionel absent) (Photo: Hurlingham)
by Tim King at Hurlingham & Surbiton
2011-07-18 (
World Championship
)
The Championship has begun. Weather not perfect but so far no rain.
After the Qualification Tournament and Under 21 qualifiers (8 in total) were known, the result is the following participation of England players:
Will Gee
Howard Cheyne
Simon Carter
James Goodbun
Rutger Beijderwellen
Robert Fulford
Ian Lines
Jacob Carr
Stephen Mulliner
Ryan Cabble
Marcus Evans
Jeff Dawson (via Qualification Tournament)
Lionel Tibble (via Qualification Tournament)
Full details on the Championship website.
---