David Mundy won the Seniors' Championship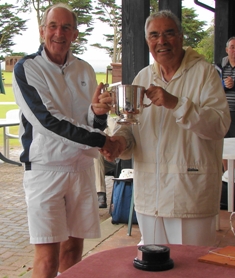 David Mundy receiving the winner's trophy from Quiller Barratt (Photo: Julie Horsley)
by Julie Horsley at Budleigh Salterton Croquet Club
17 July 2011 (
AC - Championships
)
David Mundy won the Seniors' Championships, beating Richard Griffiths in the final at Budleigh Salterton.
The week started with the Handicap Doubles Event. This was played as an X and Y Knockout Competition. With only 24 entries (12 pairs) is was easy for the Manager to have the Doubles Finals played on Wednesday morning. The X Doubles saw Tony Bower and Elaine Norsworthy (Budleigh) beat Adam Wimshurst and Scylla Blackwell (Exeter) + 11. The Y Doubles saw Richard Griffiths (Cornwall) and Barbara Thompson (Budleigh) beat Nigel Graves (Surbiton) and Peter Miller + 5T.
The Handicap Singles Event was played as an X and Y Knockout Competition.
In the X semi-finals Adam Wimshurst (Exeter) beat Peter Hills (Sidmouth) and Charles Townshend (Budleigh) beat Quiller Barrett (Watford). Adam beat Charles +8 in the Final.
In the Y semi-finals Peter Siddall (Roehampton) beat Nigel Graves (Surbiton) and Marie Lester (Budleigh) beat Peter Miller. In the Final Marie beat Peter +5T.
The Class Events started on Thursday. All were played as American Blocks.
The Seniors Championship for the Trevor Williams Cup saw Dave Mundy (Cheltenham) last year's winner and Richard Griffiths (Cornwall) both with 6 wins - Dave only losing to Kevin Carter (Surbiton) and Richard only losing to Dave. In the Best of Three Final, Dave won the first game +26, in the second game Richard started well but failed to keep control of the game leaving Dave to win +17.
This was the third time that Dave has won the Cup
Block B for the Colin Hemming Cup. The final day saw Michael Lester (Budleigh) and Tony Bower (Budleigh) both with 5 wins and still to play each other. Michael went on to beat Tony +23T but then lost to Chris Donovan (Budleigh) in the afternoon. So with 6 wins Michael won the block.
Block C for the de Ansorena Cup saw Elaine Norsworthy have a clean sweep.
Block D saw 3 players both with 4 wins - Nigel Graves, Jane Hull (Kington Langley) and Stephen Custance-Baker (Taunton-Deane). On who beat whom Stephen, having beaten both Nigel and Jane, was declared the winner.
Quiller Barrett presented the trophies and thanked everyone involved in the tournament for their hard work.
Results
Class A the Seniors' Championship
Best of Three Final between Dave Mundy and Richard Griffiths
Winner: Dave Mundy
Results of Non-Championship
Class B ( Advanced )
Block winner: Michael Lester
Class C ( Advanced )
Block winner: Elaine Norsworthy
Class D ( Advanced)
Block winner: Stephen Custance-Baker
Class E ( Handicap)
Not contested this year
Unrestricted Handicap Singles
Format: Knockout X and Y
X Winner: Adam Wimshurst
Quarter final: Rodney Parkins, Charles Townshend, Tony Bower, Quiller Barrett,
Adam Wimshurst, Jane Hull, Peter Hills, Peter Death
Semi final: Charles Townshend, Quiller Barrett, Adam Wimshurst, Peter Hills
Finalists: Charles Townshend and Adam Wimshurst
Y Winner: Marie Lester
Quarter final: Michael Lester, Nigel Graves, Peter Siddall, Scylla Blackwell,
Peter Miller, Ken Wood, Jack Thompson, Marie Lester
Semi final: Nigel Graves, Peter Siddall, Peter Miller, Marie Lester
Finalists: Peter Siddalll and Marie Lester
Handicap Doubles
Format: Knockout X and Y
X Winner: Tony Bower and Elaine Norsworthy
Y Winner: Richard Griffiths and Barbara Thompson
---