Nottingham beat Fylde to win Secretary's Shield 5-2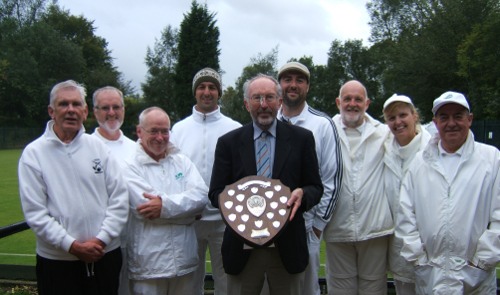 The teams and CA Secretary with the Shield
by Ian Vincent at Bury
21 September, 2011 (
AC - Secretary's Shield
)
Bury hosted the final of the Secretary's Shield on a blustery day with a few afternoon showers. The match got underway a quarter of an hour late, due to motorway delays. Omied Hallam, the Nottingham captain, won the first match in little over an hour. Bob Thompson followed him some time later for a 2-0 lead, but the doubles went to time, Martin Bradshaw and Terry Vernazza winning to keep keep the match very much alive. Barbara and Geoff Young had kindly laid on lunch, so the teams were well fortified for the afternoon play.
Terry quickly won +26 to level the score, but Omied struck back to regain the lead. Bob gained the deciding point for Nottingham and Peter Moore won a pegged out ending in the final game.
I had travelled up with the Nottingham team to present the eponymous shield, which was going to have a new winner whatever the result. Both teams will be competing again next year, as Fylde won the NW Federation league. By coincidence, Bury was the team whose silver shield is to be relegated to the back of the wooden one, having won the event in 1993.
Refereeing Queries
I had rather more refereeing to do than expected, with two cases of balls running the wrong hoop, a ball jammed in another one, a potential wiring, a ball very marginally through a hoop and a player moving the wrong ball prior to a croquet stroke. Not a fault in sight! How would you have ruled in these cases?:
a) A player attempts hoop one and is uncertain whether he had run it (from the clubhouse, it looked very marginal). Before he could ask anyone to have a look, the ball rolled forward about 6 inches. Should it be replaced and has he scored the hoop?
b) The same player, with 1 1/2 bisques standing, played a big split shot, sending his opponent's ball off the West boundary and ending about 5 yards from a ball near rover, with the other at his hoop. He asked whether he was allowed to take a full bisque immediately after taking a half, but then, without saying anything further, sent his ball off the boundary a yard south of the ball he had sent off. He said he would take the half, at which point his opponent claimed that he had already had it.
I give the decisions I gave after the results below.
Results (Nottingham Names First):
Sanaa Hallam and Peter Moore lost to Martin Bradshaw and Terry Vernazza -4(t)
Omied Hallam bt Betty Bates +14
Bob Thompson bt Ian Theakstone +7
Sanaa Hallam lost to Terry Terry Vernazza -26
Peter Moore bt Martin Bradshaw +5
Bob Thompson bt Betty Bates +7
Omied Hallam bt Ian Theakstone +10
Refereeing Decisions
(a) The ball was not replaced and had run the hoop, as it had not come to rest under the final condition in Law 6(b)(5). (The logic is that, if the ball had been replaced, how could it be decided whether it had run the hoop?).
(b) The player had not indicated whether he was playing a bisque (or half-bisque; he had merely asked about his entitlement to do so at some unspecified point in the future) and so his last stroke was played when not entitled. His ball was replaced and he then had the choice of taking a bisque or half-bisque, under Law 37(d)(1).
---