Surbiton beat Ashby at Letchworth to win the 2011 Golf Croquet Inter-Club Championship 4-3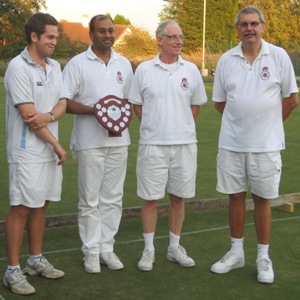 Surbiton: Howard Cheyne, Samir Patel, John Spiers, Don Beck (Photo: Ray Mounfield)
by Samir Patel at Letchworth Croquet Club
1st October 2011 (
GC - Inter-Club
)
Surbiton beat Ashby 4-3 in a very closely fought contest to win the GC Interclub Trophy for the 5th time.
Surbiton were only one hoop away from a 5-2 victory. But Ashby were only one hoop away from a 4-3 victory and two away from 5-2! Ashby also won 16 more hoops than Surbiton across the 17 games in the match. However, Surbiton team captain Don Beck brought home the victory in a tight finish against Rachel Rowe, after John Spiers had hung on for a vital win in the morning against Ray Mounfield (from 1-4 down in third game) and Samir Patel had been assured in defeating both Ray and Tim King.
Letchworth proved to be a perfect venue for the final. The club was hospitable, members formed a decent-sized crowd of spectators, operated scoreboards and (most important of all) the two courts were in fantastic condition, with a fast, true surface that was a fair test of croquet ability. Other clubs should note Letchworth as a possible neutral venue when they are in need.
Results
(Ashby names first)
Morning
William Gee (0) & Rachel Rowe (1) beat Howard Cheyne (0) & Don Beck (0): 7-1, 6-7, 7-6
Tim King (1) lost to Samir Patel (1): 3-7, 6-7
Ray Mounfield (2) lost to John Spiers (1): 7-1, 6-7, 6-7
Afternoon
William Gee beat Howard Cheyne: 7-4, 7-1
Rachel Rowe lost to Don Beck: 7-3, 6-7, 5-7
Tim King beat John Spiers: 7-4, 7-3
Ray Mounfield lost to Samir Patel: 4-7, 4-7
Summary
| - | Ashby | Surbiton |
| --- | --- | --- |
| Legs | 3 | 4 |
| Games | 8 | 9 |
| Points | 102 | 86 |
| Points per game | 6.00 | 5.06 |
| Games won 7-6 | 1 | 5 |
---