Nigel Graves died today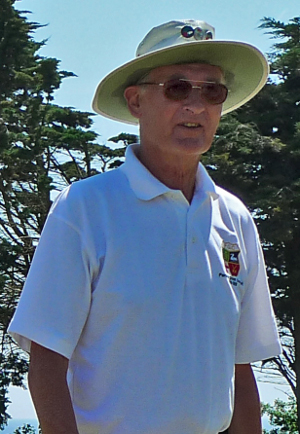 (Photo: Quiller Barrett)
by Quiller Barrett
22nd November 2011 (
Other News
)
Nigel Graves died on 22nd November 2011, aged 77, after being diagnosed with a condition of the pancreas the previous month. He has left his mark on CA affairs after being employed as Secretary for seven years until 2005 and serving on the CA Council between 2005 and 2011.
Nigel read "Greats" at Oxford, then joined Martins Bank and went on to work for an American bank based in Texas. However he wasn't enamoured with banking and, after getting an Open University maths degree, left that world to teach at Secondary and Further Education levels.
He came across croquet at a course run by Syd Jones at an OU Summer School at Lancaster after which he joined the Caterham club, becoming its Secretary before joining the CA. Nigel was a very conscientious, efficient and approachable CA Secretary. One of his innovations was the CA Civil Liability Insurance Scheme, which provides clubs with third party cover at a considerable saving. His tenure included 2001-2002 when there was an exceptional workload dealing with the move of our office from Hurlingham to Cheltenham. Council members relied on Nigel to cope with all the complexities and he did not let us down
While a Council member Nigel was chairman of the AC Tournament and Handicap committees and he worked behind the scenes helping to organise the 2011 GC World Championships. Nigel was a tournament manager and a referee, having a formidable knowledge of the AC laws. He enjoyed contributing to the CA's work as it provided him with an interest after his retirement from teaching.
Nigel was a member of Surbiton Club and he also often played at Hurlingham and at Pendle. He was proud to have had one of the CA's trophies in his living room each year from 2000 to 2010 when he was a regular player at the Seniors, the Veterans, the Peel Memorials and the Challenge & Gilbey.
I, and all Nigel's many croquet friends, will miss his company on the lawns and in the evenings when he used to regale us with his, and others', croquet exploits. Council intends to present a 'Nigel Graves' trophy for competition in the Seniors Championship: he will be long remembered.
---