GC Opens; Mulliner snatches victory from the jaws of defeat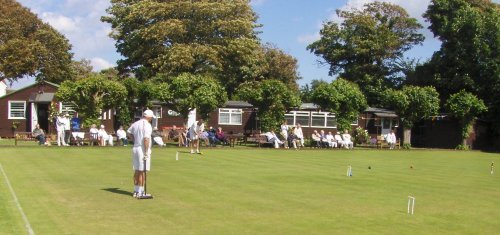 Action at hoop 11 game 3 (Photo: John Low)
by Bill Arliss at Southwick
24 June 2012 (
GC - Championships
)
As expected the two seeds Reg Bamford and Stephen Mulliner negotiated their way through to the final without any serious problems. After Reg's win over Howard Cheyne in the semi final on Saturday evening, 7-0,7-2, we expected fireworks right from the start as Howard had described Reg's shooting as simply awesome. Unfortunately the magic touch seemed to have disappeared on Sunday and Stephen playing very steadily claimed the first game 7-4 with missed clearances from Reg. A rather different Reg Bamford started game two with a slightly angled 20 foot shot for hoop one which also ran hoop 2. Although his normal shooting accuracy had not quite returned, Reg kept the pressure on and claimed game two 7-4.
Game three started well again for Reg. With some quite longish hoops he steadily built up a lead of 6-3. However things started to go wrong at hoop ten. Stephen had jawsed his blue ball in the hoop with red behind the hoop on the boundary. The clearance shot was just off centre but sufficient to bounce the jawsed ball off the wire and pull it through the hoop. Both players missed shots at eleven before Stephen ran the hoop and on to hoop 12. Luck was slightly with Stephen in clearing one of Reg's balls to behind the hoop he managed to jaws his own ball. Although this was subsequently cleared it allowed Stephen to score and force the play off at hoop 13.
Reg was first to play with his red which was a few feet short of the penalty point on the east boundary and he tried to give himself a short shot for hoop 13. Unfortunately he was just too light with the stroke and came to rest by the side of the hoop. Stephen followed up with black to a good scoring position about four feet from the hoop. The two other balls were then played but did not change matters. To most of the spectators it appeared a simple matter for red to despatch black but on close examination red was actually touching the wire which of course limited the playing angle for red and prevented any contact between red and black and allowing Stephen to claim the final hoop and the championship.
Nick Cheyne won the plate event and received the Hobbs Mallets Champagne.
---