Pendle & Craven Midweek Tournament Results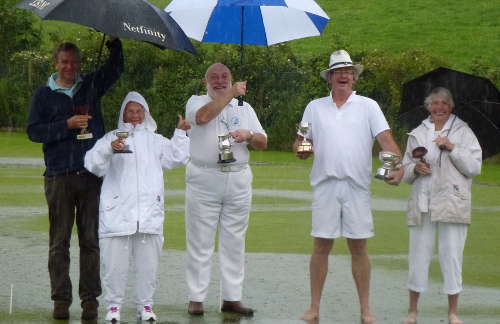 Pendle Midweek: David Marsh, Eileen Gallagher, Roger Staples, Paul Rigg, Janet Davies (Photo: Liz Wilson)
by Liz Wilson at Pendle & Craven Croquet Club
6 July 2012 (
AC - Handicap
)
Heavy rain preceded the tournament but with a little attention, four lawns were available and all that we required with double banked doubles being scheduled each morning. Conditions became unusual. We played in warm dry conditions but each night we received rain of Biblical proportions. Clothing varied from full sailing waterproofs and flat soled deck wellies to short and t-shirt with bare feet. Gradually the water table rose making each morning a bit harder to clear. On day three we lost a lawn.
On day four the Met Office issued 1.3 Billion severe flood warnings about the impending Jet Stream crisis and the players congregated for the early presentations and to watch as the lawns finally succumbed to the majesty of Mother Nature. Nevertheless we completed everything except the doubles final which will be played at a later date between Peter Wilson & Eileen Rossiter v Liz Wilson & Garry Wilson (no relation!).
If seven maids with seven mops
Swept it for half a year.
Do you suppose," Liz Wilson said,
"That they could get it clear?"
"I doubt it," said the Manager,
And shed a bitter tear.
(with apologies to Lewis Carroll)
Quote of the tournament!
Peter Moore overrunning a hoop approach - "Ooh I've found a dry bit"
Overall Results
David Marsh: The Addict (Most games played)
Eileen Gallagher: The Irish Cup(Unrestricted Handicap Play)
Roger Staples: David Jenkinson Trophy (Open Advanced play Singles (C Class).
Paul Rigge: The Pendle Rose Bowl (Open Advanced play Singles) & The Egyptian Cup (Fastest win in any tournament including doubles)
Janet Davies: The David Hoyle Trophy (Unrestricted Handicap Play Runner Up Handicap 9+)
Terry Vernazza:The Pennine Trophy (Unrestricted Handicap Play)
Runner Up Handicap 8 and under.
---