Dave Mundy won the Senior's Championship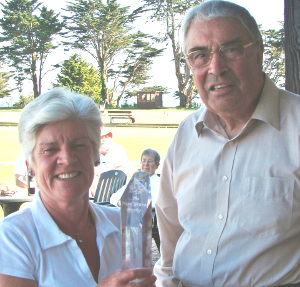 Georgeen Hemming presented with the new Nigel Graves Trophy by Quiller Barrett (Photo: Julie Horsley)
by Julie Horsley at Budleigh Salterton Croquet Club
22 July 2012 (
AC - Championships
)
Dave Mundy won the Seniors' Championship Trevor Williams Cup for the third successive year, winning 7 out of 8 games. The tournament was well attended with 41 players taking part from as far afield as New Zealand, Nottingham and Colchester.
It was good to see so many players returning and also to see a few new faces. After the rain and saturated lawns of the last few weeks, the sun and summer decided to appear. Wet weather gear and the wellies were put away and the shorts and sunbloc appeared, as the week progressed so too did the temperature and the speed of the lawns.
The week started with the Handicap Doubles which saw Richard Griffiths( Cornwall) and Peter Miller ( Sidmouth) and Alan Cottle ( SussexCounty) and Avril Rangoni Machiavelli (Blewbury) emerge as block winners. In the Final on Sunday Richard and Peter narrowly beat Alan and Avril +1T.
The Open Handicap Singles started after lunch on Wednesday and within a short space of time all the bisques were re-located somewhere on the lawns. Everyone knocked out of the X was automatically entered into the Y.
The Final of the X for the Quiller Cup was between Peter Siddall (Roehampton) handicap 4 and Rosemary Bradshaw (Budleigh Salterton) handicap 16. Rosemary used all her bisques well and won +19.
In the Y, Marie Lester ( Budleigh Salterton ) handicap 14 beat Scylla Blackwell (Exeter) handicap 16 + 3T.
The Class started after lunch on Thursday; this saw a number of results +26 but a large number of games ending +1T.
Dave Mundy retained the Seniors' Championship Trevor Williams Cup for the third successive year, winning 7 out of 8 games.
Andrew Wise ( Bristol) on his first visit to Budleigh won the Colin Hemming Cup winning all 7 games.
Wendy Betteridge ( New Zealand ) won the de Ansorena Cup with 6 wins out of 7,
Georgeen Hemming (Colchester) also on her first visit to Budleigh won all 6 games in her block to receive the new Nigel Graves Trophy.
Peter Miller (Sidmouth ) won the handicap play block with 4 wins out of 5.
Saturday evening saw most players attend an excellent Tournament Dinner in the Clubhouse.
Quiller Barrett in presenting the trophies thanked everyone at Budleigh for all their efforts during the tournament and in particular complimented the groundsman Chris Root for the condition of the lawns.
---