George Noble won the COWhorn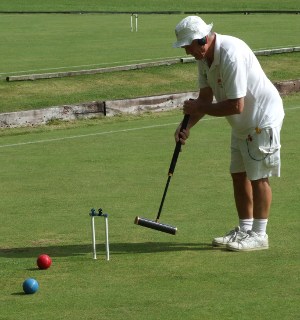 (Photo: Dave Kibble)
by Dave Kibble at Compton
10th August 2012 (
AC
)
George Noble won every game he played and so won in the COWhorn advanced punning weekend - the eponymous Compton Open Weekend trophy is a brass post horn.
Ian Vincent won the COW Bell for the Swiss consolation event, a hoop supporting a cow bell that has a Swiss mountain scene printed on it. Ian also won the COW Pat, for the person who lost to the person who lost to the person who lost to the person who lost to the winner, which is a butter pat with a miniature cow playing croquet upon it. This is the first double win.
At lunch on Sunday, Nigel Polhill with 4 triples was in prime position for the peeling prize - the Ace Peeler helmet, a prize now resurrected as a policeman's (Peeler's) helmet with the Roy Wallis Ace Peeler cartoon as a badge (description not suitable for publication!). However, in his final two games, Dave Kibble completed a sextuple, followed by a TPO to take the prize.
The weather was amazingly sunny and dry for the whole weekend, despite heavy rain at another sporting competition taking place just up the road (the Olympics).
Manager Roger Wood made up the numbers in the first round by playing #1 seed Stephen Mulliner to avoid any lack of play, however he had a purple patch and completed one of his few triples in that game and continued winning right through to the final where his run came to an end and in doing so qualified for a CA Silver Medal.
Jonathan Lamb

Jonathan Lamb
+25

Graham Gale
+13

Roger Wood
+15 -21 +4

George Noble
+17 +18

Ian Vincent
Graham Gale

Graham Gale
+24

Paul Castell
Strat Liddiard

Strat Liddiard
+11

Roger Wood
+11

Dave Kibble
Roger Wood

Roger Wood
+20TP

Stephen Mulliner
Alex Jardine

Craig Oakley
+24

George Noble
+5

George Noble
+4 +26TP

Craig Oakley
George Noble

George Noble
+5

Greg Wicksteed
Martin French

Martin French
+15 (in 2.5 hrs)

Martin French
+2

Louise Bradforth
Peter Moore

Nigel Polhill
+26TP

Nigel Polhill
Swiss for the Cowbell
Winner: Ian Vincent (3/5) - (having beaten both Louise Bradforth and Greg Wicksteed).
(3/5) Louise Bradforth, Greg Wicksteed
(4/7) Jonathan Lamb, Nigel Polhill
(3/6) Dave Kibble, Craig Oakley
(2/4) Stephen Mulliner
(3/8) Paul Castell
(2/7) Alex Jardine
(1/4) Strat Liddiard
(1/6) Peter Moore
Ace peeler: Dave Kibble
COWpat: Ian Vincent
Full Swiss Results
S1  Stephen Mulliner beat Paul Castell     +9
S1  Alex Jardine     beat Peter Moore      +26TP
S1  Ian Vincent      beat Louise Bradforth +3
S2  Paul Castell     beat Alex Jardine     +11
S2  Stephen Mulliner beat Dave Kibble      +8tpo
S2  Greg Wicksteed   beat Peter Moore      +24
S3  Jonathan Lamb    beat Stephen Mulliner +26tp
S3  Craig Oakley     beat Paul Castell     +12
S3  Dave Kibble      beat Alex Jardine     +9
S3  Ian Vincent      beat Greg Wicksteed   +3tp
S3  Louise Bradforth beat Peter Moore      +25
S3  Nigel Polhill    beat Jonathan Lamb    +26tp
S4  Paul Castell     beat Nigel Polhill    +1
S5  Nigel Polhill    beat Ian Vincent      +26tp
S5  Craig Oakley     beat Jonathan Lamb    +17
S5  Paul Castell     beat Strat Liddiard   +12
S5  Louise Bradforth beat Dave Kibble      +17
S5  Greg Wicksteed   beat Alex Jardine     +8
S5  Peter Moore      beat Graham Thompson  +17
S6  Nigel Polhill    beat Craig Oakley     +18tp
S6  Jonathan Lamb    beat Paul Castell     +4
S6  Ian Vincent      beat Strat Liddiard   +8
S7  Louise Bradforth beat Nigel Polhill    +4
S7  Greg Wicksteed   beat Craig Oakley     +5
S7  Dave Kibble      beat Peter Moore      +26sxp
S7  Alex Jardine     beat Graham Thompson  +15
S8  Graham Gale      beat Peter Moore      +6
S8  Dave Kibble      beat Paul Castell     +2tpo
S8  Jonathan Lamb    beat Alex Jardine     +21

---