Championship of Surrey - Final Day Commentary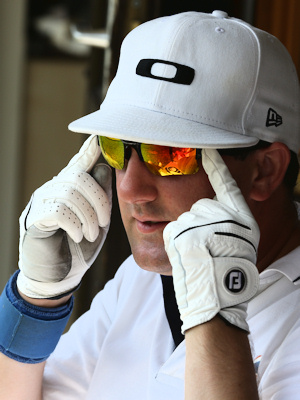 James Hopgood prepares for the Championship of Surrey Final (Photo: Samir Patel)
by Samir Patel at Surbiton Croquet Club
12/08/2012 (
AC - Championships
)
See also the full results.
It's slightly overcast, taking some of the edge off the pace. Lawn 3 (for the rest of the remaining semifinal) is running at 11 seconds, despite having been cut (down from 13 seconds yesterday afternoon).
1. Jamie K E boundary level with 5
2. Samir Y duffer
3. U shoots at K, misses to IV
4. R rushes Y into hoop 4 and has a leave: U near 2 (almost-cross-pegged from Y), K near corner I, Y in 4, R 4 yds NE of Y
5. U misses R
6. R hits U, sends it to 2, hits Y, goes off in corner I
7. K has leave: R 3yds N of 4, Y 5 yds NR of 3, joins with rush for K level with 6 on W boundary pointing at hoop 6 (this turn included a take-off to hoop 1 which stopped inside the yard area). I've been told that the hoops have been "caressed"
8. R hits Y, cutting it to III, takes off next to black
9. K has break
10:06
Lawn 2 is waiting for the final. This has been cut this morning, and the hoops are being adjusted ready for the final.
9. ... Jamie's break with K continues. ...
A large box of ingredients for lunch has arrived.
10:10
9. ... diagonal spread; R at peg.
10:14
10. Y misses long lift by not very much.
10:21
11. Jamie rushes into IV after hoop 1; plays cannon to get R 4yds WSW of 4, and rushes Y to 2.5 yards E of 2, gets rush after 2. Peel at 4-back rejects...
10:30
11. ... 4b before 6, hampered at 1b, but copes...
10:39
11. ... hits peelee when running 2-back, so doesn't get anything nicely placed at penult. Looked away for a moment, but his croquet stroke after running 3-back was from E boundary near hoop 1(!) Roll up the lawn hits peelee, attempts peel but it rejects and cannons into strikers' ball. Copes with 4-back, but this is now going to be a break and leave for penult and peg.
10:42
11. ... OSL
10:50
12. Y hits corner IV, fails 1
10:56
13. Leave is R Eb, level with 1, Y N boundary just outside II, K and U W boundary level with 4, K has rush to penult. There may be some wiring.
11:00
14. R hits U (shortest shot), rushes K into hoop 4, fails 1
15. K misses R
11:04
16. R misses Y
11:06
17. K hits U, gets hampered foward rush on partner after rover
11:22
17. ... hits hampered shot, pegs out with a big split shot going to Y
Jame Burch +26tp +25
11:22
*FINAL*
11:23
James Hopgood is warming up on lawn 3. The final will be on lawn 2, which has been freshly mown and has had the hoops "caressed" by the grounds-staff.
11:31
James reports that he is now ahead of David Maugham in the rankings. When asked about this momentus occasion, he says "Woo Hoo". He's also sporting some bizarre reflective orange sunglasses, which have apparently been recommended by someone described by James as "a hot married lady who thought he should show less emotion in his eyes and face." Does anyone have a balaclava?
The lawn has been timed at 12.5 seconds, and the sun is now out.
Jamie won the toss, and elected to go first. James chose R&Y.
11:36
Game 1
1. Jamie K to E boundary near maximum distance.
2. James R to just outside corner II, but without his sunglasses
3. U hits K from III and has DL
I see Statto has already put the semi-final results in the rankings.
11:47
4. Y hits from III...
There's some sort of religions/eco festival going on in the adjacent park, with amplified music.
Apparently James placed a bet on himself with Honest Kev at 16-1, so stands to win £160 should he win this final.
11:49
The final is best of 3
11:53
Jamie says that it's much better to read the commentary than watch his game.
11:54
4. ... James sticks in hoop 6 from nowhere
11:55
5. Jamie has enough of yellow to shoot at, and has a trivial pick-up.
12:03
5. ... Jamie sticks in 1-back. Crowd points out that there's a ladies SXPO just waiting to be completed.
12:17
6. James turns down the SXPO and plays Y instead. Misses return after 2-back (5 yards) into B baulk.
7. Jamie picks up break with blue, but sticks in 2-back.
12:23
8. James starts his break with R. Based on where he's sending the balls, I'd say he's after the QP. Current clips are James R (in break, for 2), Y 3-back; Jamie K for 1, U for 2-back.
12:24
8. James has position for a death-roll peel of 3b before hoop 3, although there's a danger of hitting blue on his way up to black at hoop 3.
12:26
8. ... turns is down and just takes off. Still looks very tricky, he's swinting at it from ground level at S boundary. Good take off to hoop 3.
12:31
8. ... James has everything nicely placed as he runs hoop 4. K at hoop 5 perhaps a bit far South, but that's being a bit picky. 3b peel rejects to about 1 hoop in front, slight angle.
12:34
8. ... James has given up on the QP having not got a useful rush on it after 5. A local pundit (handicap -0.5) points out that the parity is right for a straight quad. Given the state of the hoop 6 pioneer, James might be happy with making the hoop.
12:42
8. Shock! James is running 3-back with a tidy break in front of him. :)
12:52
8. ... but rushes after 3-back almost into rover. Copes with that, and has a diagonal spread. K (for 1) at the peg. James is 3b (Y) and peg (R).
9. Jamie lifts U (for 2b) and shoots from III. Nicks Y.
13:04
James has changed to his "hip and trendy" hat.
8. ... Jamie is having a leave with: Y 4yds ESE of 4, R 4 yards SW of 1. Joins near corner II.
13:06
9. James hits R with Y. Has leave with a rush near IV to 3b, Jamie with a 18 yard shot from near 3 (U) at K (near 2)
10. Jamie misses U and K.
11. James starts his break from 3-back to peg for game 1.
13:07
Honest Kev has scrubbed the odds of Evens for James, but has no published odds for Jamie. James has made 3-back.
13:08
The plate draw is Brown v Polhill, Lamb v Mulliner
13:14
11. ... James finishes, to take game one +17
13:16
There may now be a break for lunch, which has a starter of Chipstead Churdle, which is a form of hot chicken liver and mushroom pate in a pasty case. That's followed by Moroccan chicken.
13:16
And accompanied by Chiswick.
13:17
The manager has carefully arranged for all seven lawns to be completely empty over lunch.
13:47
The plate knockout has got started on lawn 3. Mulliner (who is finishing his best of 5 against Jonathan Lamb) and Polhill are in play.
13:49
There's now a photograph to satisfy the Hoopgod fans out there. Suggestions for captions please.
13:51
Game 2 of the final just getting under way.
1. James K to Eb, 3yds N of hoop 4
2. Jamie Y to corner II.
3. James hits partner from A baulk
13:53
The trophies have been found. The main cup hasn't been engraved since 2009. The plate hasn't been seen for many years, and turns out to be a cup which was last engraved in 2002. One for the archivists.
13:56
3. ... DL, but quite far South (only a little north of 4)
4. Jamie misses badly from A baulk.
I've discovered the Bread and Butter pudding.
14:06
5. James fails hoop 2.
6. Jamie shoots from 3 to 4 and misses.
7. James declines to make hoop 2 immediately, and instead comes to Jamies balls across the far corner of the lawn. Gets a good enough rush to hoop 2, and makes sure of the hoop.
14:09
7. After hoop 3, rushes Y back into the jaws of 4b. Crowd want a practice TPO. I don't think they'll get one. No entries for the capton competition so far.
14:09
And as I wrote that, the first entry comes in: "Who is Mo Farah anyway?"
14:14
At 1-0 up at lunch, James has traded off his bet with Honest Kev at an implied 10-17.
14:20
James is around to 2-back. Looks like a d-spread.
14:21
Commentators curse - he's stuck in 2-back. Claims for a wedge.
14:24
No wedge; well set to 1/32".
14:25
8. Jamie lifts R and hits K. Sets up easy break, peeling U through 2b to get started.
14:29
8. ... Jamie at hoop 4. All under control. No sign of any POP attempts.
14:41
8. ... Diagonal spread. He's joined quite far south, about a yard or so south of level with 5. Short lift does look quite short.
14:42
9. James lifts K (his hoop 1 ball, partner for 3-back) and shoots from corner III. Misses into IV.
10. Jamie gets his TP attempt underway. After 1 rushes to S boundary, around 10 yards from IV.
14:44
10. ... Sends U to hoop 4, then hogan roll to 2 and 3. Doesn't get a rush to 2, but approaches to a yard and...
14:47
10. ... runs the hoop. Will be a delayed TP
Honest Kev is offering evens on Jamie for the match.
14:52
10. ... Jamie gets the 4-back peel before 6, but runs 6 deep and misses the 7 yarder at peelee.
14:55
11. James hits U (near hoop 6) with K (behind 1-back). In principal has a quad to win the match.
14:59
12. Looks like he is going for the quad.
15:01
12. ... Hopgood clangs hoop 2.
13. Jamie has a short shot with his 1-back ball.
15:07
12. ... has a grand tour of the lawn, but then fails 1-back off partner.
Quick update:
Y is for 1-back, and has just failed the hoop
R is for penult and is 5 yards SW of 1-back.
K is for 2 and is 2 yards W of hoop 1
U is 6 yards NE of 6.
13. James shoots U at Y and misses.
14. Jamie shoots Y at U and misses.
15:19
15. James makes 3-back, and has a leave. R a yard N of 1, Y 3 yards W of 4-back. K and U 3 yards apart on E boundary with K level with 4 and having the rush.
16. Y shoots at R, misses to just outside corner I on S boundary.
17. James starts his break with black, but looks to have misapproached 3. Gets though, but only just, and needs to sweep.
15:21
17. ... Clean shot, but misses. Jamie hits K with R
15:22
In a Z game on lawn 1, Duncan Reeve has just had hoop 2 rejected to maximum distance position on W boundary.
15:23
18. Jamie is for penult and has an easy start to this break. Only constraint on the choice of leave is that Y is still just outside corner I.
15:26
18. ... Jamie tries for a cross-wire at 1-back (yellow's hoop), but sends K due W of the hoop, so it wil be a thin wire. Tries instead to cut U towards corner III, but it hits hoop 6. Some thinking required.
15:30
18. ... Sends U to NE of III and joins with Y. Yellow has a rush pointing at hoop 6 on lawn 3.
15:30
19. James misses into III
15:33
20. Jamie chips out K, and over-rushes to 1-back. Takes off to U and gets a 2 yard rush back towards where he's standing. R has gone 3 yards SE of 1b.
15:35
20. ... Gets a stop-shot approach to 1-back, which he uses to send U to rover. Gets a possible hoop, but sticks.
21. James is shooting U at R/Y. Not sure if it's a target, or whether he's just shooting at R with Y somewhere in the background.
15:41
21. ... U hits R. Has a leave with U just off N boundary about 12 yards from II, R about 4 yards E of rover. K: in corner I, U gives K a 3 yard rush pointing at the peg (Clips are U: 4b, K: 4, R: Peg; Y: 1b),
15:43
R and Y are wired.
22. R shoots at K and misses.
15:43
In the plate, Nigel Polhill has beaten Robin Brown, to set up a final against Stephen Mulliner.
15:48
23. K picks up a break for hoop 4. No real chance to get the balls out for a TP, so I'm guessing this will be a ball to the peg.
15:50
23. Or at least, it would have been had he not misapproached hoop 6. K rejects off the hoop.
23. Y is for 1 back and was the 1-back pioneer. Hits U.
15:54
Correction. This is turn 24.
24. Y is for 1 back and was the 1-back pioneer. Hits U.
15:55
24. Has to leave U at 3-back, but should be able to cope.
15:56
Hmmm.... I should stop writing things like that.
24. ... Sticks in 4-back from about 6 inches
16:00
25. James takes a look at the balls in 4-back, and then walks off the lawn. Maybe he's deeming? No, he's just taking off the trendy sunglasses. Lifts U (for 4-back), rather than K (for 6).
16:08
25. ... Take his break to the peg, and pegs Red out. that leaves Y for 4-back against K for 6. Y is mid-lawn, and the leave is K maximum distance on E boundary and U in corner II.
16:09
26. Y shoots at U in corner II; misses.
16:16
27. U sends Y to 5.5 yards S of 4 (good shot in these conditions), hits partner and joins near II.
16:16
28. Jamie shoots, misses.
16:17
29. K hits Y, doesn't get a rush to 6. Rolls away towards corner I.
30. Jamie shoots, misses the double by about a foot.
16:19
The plate final has just started on lawn 3, between the Short Man, and the Shorter Man.
16:21
31. K approaches 6 with a very deep U , makes the hoop. Snicks U and plays a good roll to approach 1b. "Should be all over"
16:22
31. ... Fails 2-back.
16:25
32. Hits K at hoop 1, takes off to U at 3-back. Has a 2.5 yard rush which he needs to hit half-ball. Nicks it. Rolls off 4-back and gets a 2 yard hoop which rejects to 2 yards slightly straighter.
16:26
33. U hits Y. Crowd not sure about this choice. Shot at partner preferred.
16:29
33. ... but he hits it anyway. Rolls down to corner I and lays a rush for 2-back.
34. Jamie walks onto the lawn saying he's been aggressive so far. And takes the shot and hits more or less centre ball.
16:31
34. ... Rushes to 4 yards NW of 4-back. Good take off and runs to leave a rush to penult. Appoaches, but sticks in penult.
16:34
35. K has a 4 yarder at Y in the hoop, which he hits centre ball. Plays the roll to send Y to 3-back and gets a good enough rush on U to 2-back. Rushes to 3 yards NW of the hoop, approachs to a middling position and fails the hoop.
16:35
36. Y shoots at U and hits.
16:39
36. Sends U to rover and rushes K to 3 yards WSW of penult. Approaches penult to a yard slightly angled. Runs down to rover.
Jamie Burch +7
16:41
Game 3
16:42
1. Jamie U to E boundary a yard north of level with 5.
2. James Y to corner II
3. K shoots at U misses.
4. R shoots at K and U from III, misses. Body language says it was close.
16:49
5. Jamie on a three ball break. He's just made hoop 6, and has taken off to corner II to pick up yellow.
16:58
5. ... to 4-back with diagonal spread. May be a bit showing at the peg, since Jamie has joined a yard apart in corner IV.
16:58
6. James lifts wide ball from near 2, and misses U in IV.
17:03
7. Jamie rushes nicely to hoop 1, and gets partner across from 2 to 4b for a standard TP.
17:04
7. ... Has a very angled peel, which is played gently to jaws. R is about 2 ft NE of 4.
17:06
7. ... Fails 3" straight hoop 5.
17:16
8. Y hits U, and picks up a break
17:28
8. ... James sticks in 3-back (very close, slightly angled hoop)
17:28
9. Jamie has an easy start for U, but runs into 3-back trying to get his rush on black.
17:30
9. ... Approaches to a 45 degree 1 yard hoop, which he tried to club through. Rejects to 5 yards S of hoop 5.
10. James elects to play Yellow either ball was on offer, presumably to have a single hoop and a strong leave
17:40
10. ... Cross-wiring U&K around hoop 1. Puts R about half way between 3 and III, and then sends yellow to a 5 yard rush towards II!?
17:40
11. Jamie shoots U at R. (James report that the final shot with Y was clubbed, rather than part of some cunning plan we couldn't understand).
17:41
12. James is playing R, and has a standard TP to win.
17:51
12. ... James has all the balls for a standard TP, Y and K a bit close, but should be OK. Run 3, and gets K and U very close. Straight peel though.
17:52
12. ... Y rejects, and red leaves a hampered shot at K. R shouldn't have been anywhere near there; he's swinging through the hoop so would have had no shot at all had Y jawsed.
17:53
12. ... Copes with the hampered show, K goes 2 yards SW of rover, but he should cope (I've said that before!) Delayed TP attempt coming up.
17:54
12. Runs 5 peg-high, and has a peg-hampered return at K. Removes the peg extension, which seems to make it easier. Hits K.
17:55
Stephen wins the plate.
17:56
12. ... another 4-back peel attempt before 6. Hits near wire and rejects to a foot W.
17:57
12. ... Rushes close to 6, and gets no rush out of the hoop. Probably time to abandon the TP.
18:03
12. ... Break has been untroubled. Now at 3-back
18:03
12. ... Looks like he's interested in an STP
18:07
12. No, abandons the STP. Has both U and K at penult. We don't understand why he went to the effort of setting up for an STP, and then abandoning almost immediately.
18:14
The commentary team has been working out who are the missing names on the trophies.
In the meantime...
12. ... James makes Rover
18:15
Previous winners (Year - Main Event - Plate)
2011 Mulliner - Plummer
2010 Patel - Dawson
2009 Fulford - ???
2008 Beijderwellen - ???
2007 Clarke - Patel
2006 Beijderwellen - Dawson
2005 Beijderwellen - Dawson
2004 Dawson - Carter
2003 Dawson - Maugham
2002 Dawson - Beijderwellen
If anyone thinks they won the plate in 2008 or 2009, please let me know!
18:17
12. ... James has a horizontal spread, and joins about a yard apart a yard S of corner II. Jamie's hoop 5 ball (U) near the peg. K and Y are for 4b. and U is for 5.
18:18
13. Jamie lifts U and centre balls Y.
18:18
Ah. Statto to the rescue. Plate winners in 2009 and 2008 were Death and Mulliner
18:23
13. ... Jamie's break is looking tidy. Not even looking at a speculative 4-back peel before or after 1-back or 2-back. Ineeed, he McCullogh's it down to 3-back.
18:26
13. ... the "well informed crowd" points out that Jamie does have the parity for the STPO. Something else that I don't think we'll see today.
18:28
13. ... 4-back tries to grab U, but it gets through. Big grin from Jamie in response to the "oohs" from the crowd
18:32
13. ... Jamie pegs out R, and opts for a 16 yard wide join, U in II, K approx peg high.
18:34
13. James hits U in corner II. Takes off to Y, but gets no rush. Thick take-off (?) to 4-back fails to get in front. Takes position.
18:35
13. ... Er.. Tried to take position. Actually a yard NE of 4b
18:37
14. Jamie shoots K to corner IV (crowd preferred corner II)
15. Y takes position
16. U to 10 yd join on S boundary.
18:38
17. Y runs 4b to N boundary. Y shoots at U, hits.
18:40
17. ... elects not to try to take off to black and instead just rolls up to penut. We assume that it was an attempt at a pass roll, but U has done 4 yds NW of penult so can't take position. Crowd wanted a take off to K in IV, and then a pass roll of K to peg high and then take position at penult.
18:41
17. ... Y to 10 yards E of corner I on S boundary.
18:42
17. .... the "well informed crowd" point out that the yellow clip is now misplaced on hoop 6. I don't think anyone would get misled.
18:43
18. U to 5 yards S of III
19. Y tries to take position. Looks to be 2 yards W of penult
18:46
20. U (for peg) to 6 yards from K on S boundary. (K is in IV, for 4b). Y is 2 yds W of penult (for penult)
21. Y is shooting at K. Misses.
18:46
Jamie has a beer courtesy of Jonathan Lamb who has made -0.5 and has just bought a very large round.
18:49
If you've been paying attention, you'll have spotted that there were two turn 13s, so we've been one turn out in the numbering. So...
23. K takes off to U, but doesn't quite get the rush. Cuts it as well as he can, and plays a good approach. Run 4-back, but with Murray control. Rushes U to middle of N boundary. Y is still in IV (for penult). Looks to be finding a boundary to run to.
18:50
23. ... decides he doesn't like his options and needs more strokes. Approaches penult. U almost peg high, but has a 2 yard hoop. K runs by a yard.
18:51
3. That hoop was met by rapurous silence from the crowd. Rushes near rover and approaches to a 1 yard hoop. Runs with no wire, and has a 7 yard return.
18:52
23. ... Hits. Rushes it to a yard from the peg.
Jamie Burch wins the Championship of Surrey -17 +7 +3
19:00
Addendum.
James hasn't checked his ranking yet, although Graham has updated him on being below David Maugham again.
Honest Kev will be kicking himself.
---