Nottingham beat Bear of Rodborough to retain the Secretary's Shield 4-3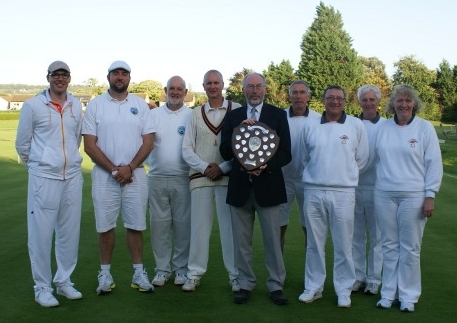 by Dr Ian Vincent at Cheltenham
29th September 2012 (
AC - Secretary's Shield
)
Cheltenham, Saturday 30th September. Dry with sunny intervals but a chill wind.
At lunch, Nottingham were 3-0 up against the Bear of Rodborough. Omied Hallam and Bob Thompson won their doubles comfortably, but both singles were won by single-figure margins.
All the afternoon games were tightly fought, and at one stage Nottingham was behind in all of them, and lost the first two to finish. The deciding point came when Omied Hallam hit-in when for rover and box, having just been pegged out by Richard Way, who at that stage was also for rover and peg. In the last game to finish, Bob Thompon pegged out Robert Moss when Bob was for 4-Back with his other ball, and Robert for peg. After several narrow misses, Bob conceded a wiring lift to leave a double that Robert hit from A-baulk.
Results
Nottingham names first:
Bob Thompson and Omied Hallam bt Robert Moss and Richard Way +19
Dan Greenaway bt Keith Apperley +3
Dave Gunn bt Kate Apperley +6
Bob Thompson lost to Robert Moss -3
Omied Hallam bt Richard Way +3
Dave Gunn lost to Keith Apperley -15
Dan Greenaway lost to Kate Apperley -14
---