Paul Rigge won the John Beech Easter Tournament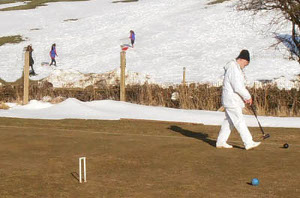 Easter Tournament at Pendle & Craven CC (Photo: Paul Rigge)
by Paul Rigge at Pendle & Craven Croquet Club
2nd April 2013 (
AC
)
Bury member Paul Rigge regained the JB Easter title for the first time in a decade and also shared the 'most games played' award with Matt Holmes (Bury) & Betty Bates (Fylde).
It's not very often that croquet shares a venue with winter activities but with children enjoying the Bank Holiday sledging on the slope at the back, we played croquet in the bright sunshine, the courts having been cleared of standing snow by hard shovelling the day before the players arrived.
The weather stayed as forecast, dry and bright but with a bitterly cold easterly wind blowing, only the in-players went outside to brave it. Easter Sunday being officially the coldest on record, with overnight temperatures sinking to -7C locally.
Entries, as always, ranged from Hcp -1 to 20, and every step in between, with most electing to play handicap only, or (introduced last year) advanced only and new this year, two players mixing it up and playing either discipline dependant upon whatever was available when they were.
Over the four days, various players floated into contention only to fall back into the pack the next day.
Final Results;
Overall, John Beech Trophy - Paul Rigge
Advanced Only - Lee Hartley
Low Handicap - Joe Lennon
High Handicap - Paul Dowdall
Fastest Game - Lee Hartley (vs B Young)
Other Awards; Garry Wilson (Pendle) achieved CA Bronze Award
---