Keith Aiton just pips Jonathan Kirby to win Colchester Weekend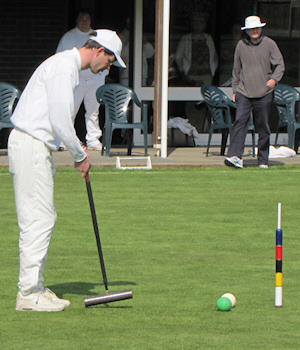 Jonathan Kirby in play at Colchester (Photo: Robert Fulford)
by Robert Fulford at Colchester Croquet Club
21/04/2013 (
AC
)
Keith Aiton won a very close Colchester Open weekend. With the winner requiring the highest percentage score, Keith stopped playing having reached 5/7. Jonathan Kirby was in the lead on 6/8 and would have won the tournament had he stopped there, but keen to play more games, lost the next to Robin Brown ending up pipped by 1%. Jonathan's overall performance was particularly impressive given how little he has played - prior to arriving in Colchester in the last 18 months he'd had only one 45 minute knock around with his 2 year daughter Lumia chasing after the balls. Robin and Jeff Dawson also both had the chance to join Keith on 5/7 but Robin lost -2 to Jack Wicks and Jeff lost -4TPO to Dave Maugham.
Playing conditions were challenging, with the club having only opened during the week the lawns were very very slow, with some shots simply impossible and just getting used to the unusual pace a problem.
Luc Berthouze had another good weekend, having won the consolation and a handicap reduction at Southwick a couple of weeks ago. Here he scored a good 4 wins all outmatched on paper, winning the manager's sub competition for a bottle wine and more significantly another handicap reduction to 0.5.
Gabrielle Higgins had a good tournament including a win over Robert Fulford and fabulous combination peg out to complete a TP against Nigel Polhill. Robert had a horror first day of the season losing his first 3 games, though recovering somewhat to finish on 6/9.
The caterer was simply amazing! (No bias here)
Rob
| | | | |
| --- | --- | --- | --- |
| COMPETITOR | WINS/GAMES | PERCENTAGE | FINISHES |
| MARK AVERY | 3/4 | 75% | 1 TP |
| KEITH AITON | 5/7 | 71% | 2 TPs |
| JONATHAN KIRBY | 7/10 | 70% | 4 TPs |
| ROBERT FULFORD | 6/9 | 67% | 2 TPs, 1 SXP, 1 OTP |
| JAMES HOPGOOD | 4/6 | 67% | 2 TPs, 1 OTP |
| JACK WICKS | 2/3 | 67% | |
| DAVID MAUGHAM | 3/5 | 60% | 2 TPs, 1TPO |
| ROBIN BROWN | 4/7 | 57% | 1 TP |
| JEFF DAWSON | 4/7 | 57% | 2 TPs |
| GABRIELLE HIGGINS | 4/8 | 50% | 1 TP |
| LUC BERTHOUZE | 4/8 | 50% | |
| NIGEL POLHILL | 3/7 | 43% | |
| AILSA LINES | 2/5 | 40% | |
| NICK MOUNFIELD | 2/8 | 25% | |
| STEVE WOOLNOUGH | 1/7 | 14% | |
| NICK STEINER | 0/7 | 0% | |
---