Pierre Beaudry won the 2013 GC World Championship Bowl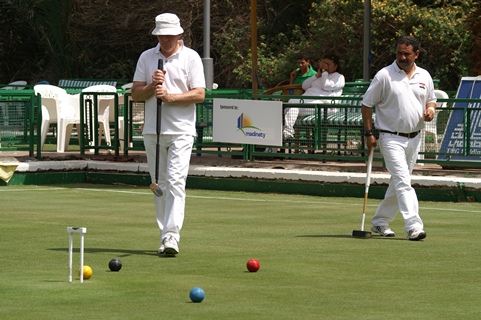 Pierre Beaudry & Yasser Esmat (Photo: Tim King)
by Dr Tim King at Cairo, Egypt
28 April 2013 (
GC - Championships
)
CA and Dulwich Croquet Club member, Pierre Beaudry represented Belgium and beat Yasser Esmat in the final of the World Championship Bowl (knockout first round losers). He had beaten previous World Champions Mohamed Nasr and Salah Hassan on his way to the final. Over the course of the whole Championship, Pierre had a winning 9-7 (games) record against Egyptians. A very impressive performance for a non-Egyptian when playing in Egypt.
The score in the Bowl Final was 7-5, 4-7, 7-5 and after he looked rather hot and bothered at the end of the second game, Pierre rallied with a fine end to the decider, coming back from 1-3 and 4-5 down.
Full results for the World Championship Bowl.
---