Beach Wedding for Nailsea Member Kriss Chambers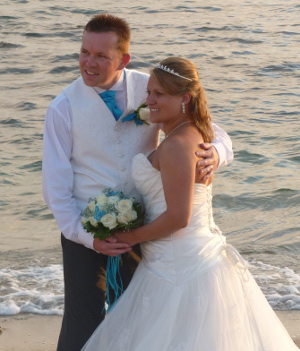 Kriss and Carly Chambers at their Wedding in Cyprus
by Kathy Wallace
15th May 2013 (
Other News
)
Well-known south-west top croquet player, Kriss Chambers married fiance Carly Brian in Cyprus on 10 May 2013 at the Kefalos Beach Tourist Village.
This meant that he missed defending his title at the Nailsea Advanced Open Tournament on 11/12 May 2013, but Marcus Evans stepped in to keep the Nailsea flag flying!
Players thought about Kriss over the weekend, but consensus was that he wouldn't be thinking about the tournament!
---