Results for May Week Tournament at Budleigh Salterton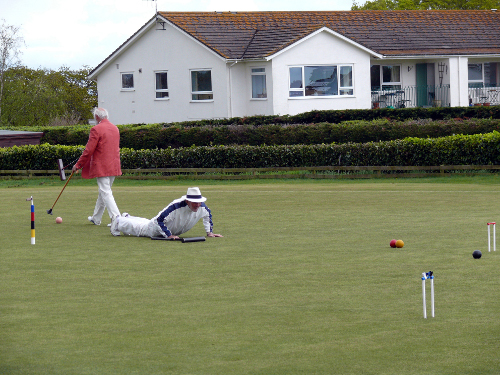 Class Event Winner Dave Mundy Lines up a Peel, neatly avoided by Cliff Jones (Photo: Jack Smith)
by Julie Horsely at Budleigh Salterton Croquet Club
11 May 2013 (
AC
)
Class Event
The Class Event 1 was fiercely contested this year, with many blocks having tie breaks.
Block A Godfrey Turner Cup
This had an an entry of 10 with handicaps -1 to 1.5 was closely contested this year.
The last day saw Alain Giraud ( last year's winner) with what he thought was a comfortable lead with 7 wins and 1 game to play. Bob Burnett was on 6 wins, again with 1 game to play. Dave Mundy and Cliff Jones both with 5 wins and 2 games to play.
Dave and Cliff won both their morning games bringing their total to 6 games each.
So at lunchtime on Saturday, Alain as on 7 wins with Dave, Cliff and Bob close on his heels with 6 wins each.
With Alain to play Dave, Cliff to play Jim Field and Bob to play Greg Wicksteed there was all to play for. Dave was the first to finish beating Alain 26STP so both on 7 wins.
Cliff finished next beating Jim +12 and then Bob beat Greg +3.
Result - 4 players with 7 wins each.
Who beat whom could not produce a clear winner, so quality of wins was evoked, this eliminated Bob and Cliff. Dave having beaten Alain was declared the winner.
Block B
In Block B Peter Moore had a clean sweep winning all his games and the Woodlands Quaich.
Block C/D
Block C saw Mike Steer and Jane Babbage on 5 wins each, but Mike had beaten Jane by 1T went on to play the outright winner of Block D Charles Townshend who had won all his games. In the final Mike beat Charles +7T
Block E
Block E saw a 3 way tie with Ian Telfer, Robert Tait and Martin Yates all with 4 wins. Again who beat whom could not produce a clear winner, nor could quality of wins so on net points Robert Tait emerged as the block winner.
Block F
Block F saw Susan Rogers and Rosemary Bradshaw both with 4 wins, but as Susan had beaten Rosemary she was the block winner.
The E/F final saw Robert beat Susan +13
Event 2
Event 2, the handicap singles, was played as an X and Y knockout. The X final between Sylvia Steer and Rosemary Bradshaw saw Sylvia win +12. In The Y final between James Tuttiett and Martin Yates, Martin used his bisques well and won +26.
Handicap Doubles
The winners of the handicap doubles were Jim Field and Ian Telfer.
---