Report on the 2013 Inter-Counties Championship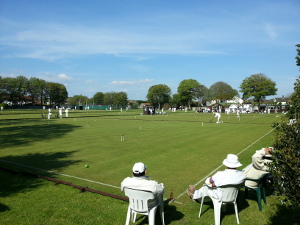 by Sue Mackay at Southwick and Compton
3rd June 2013 (
AC - Championships
)
Nottinghamshire, the pre-tournament favourite, was duly declared the winners of the 99th Inter-Counties Championship. Their team of Richard White (c), Keith Aiton, Gary Bennett, Paddy Chapman, James Death, James Hopgood, Patrick Hort and Peter Moore had to work hard for their victory, however, and it was by no means a sure thing. The sun shone for the first three days of the tournament, and the teams arrived at Southwick for the final day's play with Nottinghamshire, Surrey and Somerset all on 7 wins out of 8 (Nottinghamshire lost to Surrey, Surrey lost to Somerset and Somerset lost to Nottinghamshire), but the holders had their noses in front with 20 game wins to Surrey and Somerset's 17 apiece. At this point the heavens opened, and although the morning games were completed, just, with all three of the top sides winning, flooded lawns resulted in the final round of matches being abandoned at Southwick (Compton remained dry!). Analysis of completed matches and the unfinished block resolution section in the CA's Regulation for Tournaments showed that Nottinghamshire had won Division 1, and they were awarded the trophy by John Solomon.
Division 2 had a more clear-cut winner, as Suffolk was uncatchable. At the start of the final day Suffolk were on 7 wins, Gloucestershire on 6, and Hampshire, Channel Islands and the CA Select all on 5. In the rain the Channel Islands beat Gloucestershire, but Suffolk beat Hampshire, allowing their team of Steve Comish (c), Mark Avery, Mick Belcham, Phil Eardley, Chris Farthing, Martin Leach and Simon Riley to lift the shield as undisputed champions and gain promotion to Division 1 next season.
Berks/Oxon, who won all their matches last year to win promotion, found it tough going in the top division, and only won one match, so they will definitely swap places with Suffolk next year. Normally the final round of matches is exciting because of the permutations of promotion and relegation, but although the afternoon matches did take place at Compton, the downpour at Southwick and the subsequent abandonment of the tournament left the situation unclear as to which other teams would be relegated. At the end of play Essex and Middlesex had 2 wins, and Cheshire had 3 wins, but Cheshire and Middlesex were due to play each other in the last round. At the time of writing this report the CA Tournament Committee was planning to meet to examine more carefully the CA regulations for incomplete blocks. If nothing certain emerges, then the number of teams relegated/promoted may have to be reduced from three to two or even one.
It was nice to see Norfolk back in the tournament, and they enjoyed themselves even if they did come away with the wooden spoon. Dorset had failed to raise a team this year, with the result that some spectators were confused by finding the regular doubles pairing of Harrison-Wood and Ormerod playing on different lawns for Yorkshire and the CA Select respectively. Wiltshire had also had to pull out, with Richard Dickson and Jon Lacey playing for the CA Select, Roger Hayes for Somerset, and John Grimshaw for Glamorgan.
On the first day Somerset and Surrey were both at Compton and played each other in a crucial match after tea. Roger Tribe eventually realized he was playing with the wrong ball after an earlier ball marking incident, and there was a lot of discussion as to where and when the error had occurred. Roger's confusion obviously continued, as he arrived at Southwick unable to find his mallet and thought he had left it at Compton. He played (and won) both his games with a borrowed mallet, then discovered that his mallet had been at Southwick all the time.
On the second day the crowds waiting for lunch were entertained on Lawn 4 by Ian Burridge trying to do an all-round break at a run before time was called, with his partner Kevin Ham getting almost as much exercise by constantly having to sprint across the lawn to retrieve flying balls in hand. Ian eventually broke down, but meanwhile up on Lawn 9 Richard Griffiths started a break from Hoop 3 a few minutes before time was called, with his partner on 4b and the opponents on 4b and penult. Despite the large audience Richard kept his calm and managed to peg out, thus winning a crucial match for the Channel Islands against the CA Select.
On Bank Holiday Monday, Somerset's Kristian Chambers put in a match-winning performance against Yorkshire by completing a delayed triple with a promotion of his partner ball from penult to a perfect peeling position in front of rover. Meanwhile at Compton, Middlesex's Eugene Chang arrived late on roller blades, his train from Brighton having been delayed because of a fatality on the line. Nick Parish had deemed Eugene's ball on to the lawn and had then hit in and was playing a perfect 4-ball break when Eugene arrived. Nick promptly broke down and told his partner to go away again!
The really crucial match at Compton on Monday, however, was between Nottinghamshire and Glamorgan, and this ended up being quite controversial. Ian Burridge did the six peels of a sextuple but failed to run rover himself, but as Nottinghamshire had a weaker third pairing for the second two days (they were without James Death and Paddy Chapman), victory for Glamorgan soon followed. The other two games were doubled banked on Lawn 2, right outside the club house, and Nottinghamshire was ahead in both, with Keith Aiton doing a standard triple and Patrick Hort a TPO on John Evans. Suddenly the pendulum swung the other way in both games, with Keith failing the rover peel and Patrick managing to peg himself out as well. This left David Walters needing to complete a triple to win for Glamorgan, and Chris Williams (Hoop 1) playing one ball against James Hopgood (Hoop 2). At this stage there was plenty of time left in the match, but Patrick and James were having lengthy mid lawn discussions over every shot. This actually took the pressure off David, who was calmly going round and making his peels. Chris was for 2b and James for Hoop 6 and James and Patrick disagreed over which shot to take. At that point David did an Irish peel through rover and managed to send the peelee off the lawn, thus handing that game to Nottinghamshire. Patrick realized that their game had suddenly become crucial to the match and potentially to the championship, and the discussion as to what to do at Hoop 6 then continued for a full 10-minutes, until Chris finally intervened and told them to get on with it. Later James had a good hit in, but lengthy discussions continued, until eventually Nottinghamshire won +1 on time.
Torrential rain on the final day spoiled the party. This roving reporter decided the best place to hear about any noteworthy turns was to stay in the tea room and wait for players to come in for shelter. At one point a shout was heard from Lawn 1; "I'm wired by a puddle!" Despite the best efforts of Chris Williams and Samir Patel with the Bowdry water remover, large puddles were forming on the bottom six lawns, and there was some controversy over whether in fact lawns were playable. Marcus Evans did manage to complete a triple on Lawn 6, which was quite a feat, but mostly balls were just sticking in puddles. No-one complained when the afternoon matches were abandoned!
Lawn 8 at Southwick had been re-laid over the winter and there was some doubt as to whether or not it would be playable by the start of the tournament. In the event games were single banked on this lawn and double banked on the normally single banked Lawn 10, but Liz Williams had brought a set of tertiary colours from the CA shop just in case triple banking needed to be used. Ironically, on the final morning, the previously dreaded Lawn 8 was almost puddle free and looking the best lawn of the lot, and there was talk of triple banking there, until it was remembered that Liz had gone in to Brighton with the tertiary colours in the back of the car!
Despite the unfortunate ending, the Inter-Counties remained the usual festival of croquet. Several players were enjoying the experience for the first time, having entered their county eligibility on the CA website, thus bringing them to the notice of county captains. The tournament was the usual mix of brilliant play and appalling shots, with a friendly atmosphere and great food. Thanks as usual are due to the ground staff and catering teams at both venues, as well as to the manager and the referees. It remains to be seen what the decision of the Tournament Committee will be about the questions of relegation and promotion.
---