Over £5,000 raised for Leukaemia Research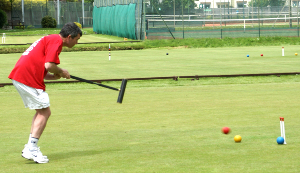 Ian in Play at Sussex County Croquet Club (Photo: Ray hall)
by Elizabeth Larsson at Various Croquet Clubs
2 June 2013 (
Other News
)
Over £5,000 has been raised for Leukaemia Research by father-and-son team, Ian and Euan Burridge. They set themselves the task of visiting 21 Clubs in five days, challenging club players at Golf Croquet. The clubs stretched from Pendle & Craven in the north to Jersey in the south, taking in Norfolk and the Isle of Wight.
The 21-club tour was completed on 2 June, 4 days, 9 hours and 28 minutes after it began. Euan (aged 11) won nine of his golf croquet games and Ian won 12 making the final score between them and their opponents a 21-21 draw.
Ian said: "My wife Catriona underwent successful treatment for Leukaemia in the first half of 2012 which really makes you appreciate the importance of research and its power to change lives.
"I would like to thank the many people without whom it would not have been possible including all the club contacts who helped me arrange the event, the players who took part at each venue and the 250+ people who turned up to watch," he added.
The clubs visited were:
29 May: Hunstanton, Colchester, Hurlingham, Roehampton, Surbiton
30 May: Ramsgate, Compton, Sussex, Jersey
31 May: Hamptworth, Ryde, East Dorset
1 June: Budleigh Salterton, Sidmouth, Nailsea, Cheltenham, Bowdon
2 June: Heaton Park, Southport, Pendle & Craven, Nottingham
---