Chris Donovan won the Nailsea B-Level Tournament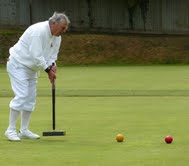 by Kathy Wallace
29/30 June 2013 (
AC
)
Nailsea Croquet Club hosted their popular B-Level Tournament at the weekend. Players from Nottinghamshire, Gloucestershire, Worcestershire, Kent, Devon, Bristol, Berkshire and Somerset joined the four home players to compete for the Margaret Fleming Shield. The weather was perfect for croquet on Saturday and the lawns were in beautiful condition with firm hoops and immaculate white lines. An early morning cut on the Sunday kept the grass short. Play was in 4 Blocks of 4 with a good spread of handicaps and club representatives in each Block. Paul Wolff from Blewbury was struggling with a borrowed mallet as he had committed the cardinal sin of leaving his own at home. He sacrificed his Saturday evening at the club to retrieve it and was more successful on the Sunday.
The Block winners were Tim Jolliff (2.5, Taunton), Geoff Hughes (3.5, Nailsea) and Robert Moss (2.5, Bear of Rodborough) having won all their three games and Chris Donovan (2.5, Budleigh) on two wins.
On the Sunday, in the semi-finals for the main event, Geoff Hughes came back from a seemingly hopeless position against Robert Moss and very nearly won the match. Time ran out for him and Robert won +8T. In the other semi-final, Chris Donovan had realised that his swing would be straighter if he stood with his feet closer together. This necessitated a slightly eccentric use of his socks to prevent an impeded swing but it worked and he beat Tim Jolliff +24! The photographs show his new sartorial style.
In the final, Chris Donovan played beautifully, reaching peg and peg when Robert had run just two hoops but was unable to peg out so, after a long and near-perfect turn, he had to lay up. Robert failed to hit in but then Chris missed his short rush and gave Robert a final chance. Unfortunately for Robert, he then watched his chance ebb away as a firmly struck ball trickled over the boundary and gave the innings back to Chris. Chris played a brilliant 20 yard shot that placed the ball in a perfect position to rush his partner ball from the yard line towards the peg and a simple peg-out followed. Third place in the main event went to Tim Jolliff who beat Geoff Hughes +21 in the play-off
The winner of the consolation event was Andrew Wise (1, Bristol) with Jonathan Wolfe (3,Taunton) runner-up and David Hunt (7, Nailsea) in 3rd place.
The Advanced Rules didn't stop some higher handicap players from winning matches. Kate Apperley, (Bear of Rodborough) won the prize for the biggest upset when, as a 7 she gained 19 index points for winning her match against a 1.
The prize for the quickest victory went to Tim Jolliff when he won a match in 85 minutes.
On the Saturday evening, the manager organised a Fish and Chip supper in the clubhouse. The food came from Noggins Old Fish Bar in Nailsea and was excellent. It was enjoyed by the over-nighters and their wives and also a couple of day-trippers and some club members.
As always at Nailsea, the catering and general hospitality provided by club members were wonderful and the winner and runner-up both expressed their gratitude most eloquently and vowed to be back next year.
---