Rod Ashwell won the August Wrest Park Advanced Tournament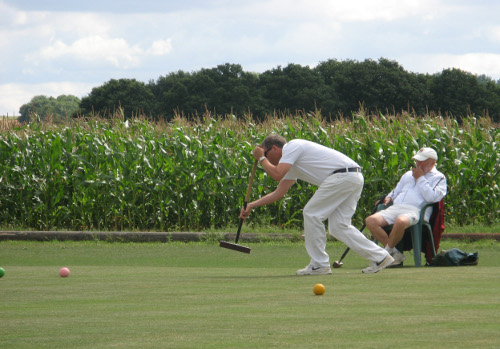 David Marsh watched by George Woolhouse (Photo: John Bevington)
by Rod Ashwell at Wrest Park Croquet Club
4 August 2013 (
AC
)
The second AC tournament on Wrest Park's new lawns attracted a small entry, the home club's members being augmented by visitors from Letchworth, the West Country and Sweden. It was won by the manager, Rod Ashwell, who finished equal with David Marsh on four wins from five games having won the game between them. David did not go unrewarded, having his handicap reduced from 1 to ½. Apart from the lightest and shortest of showers the sun shone all weekend, and the received opinion was that the lawns were playing much better than at the tournament a month previously, and this in spite of the fact that little mowing had been done in the interim.
The 3 hour time limits resulted in several tight finishes when the result swung on late changes of fortune, but there were more conclusive wins, among them Rod's game against John Bevington where he was looking for a combination peg-out to complete a straight triple but just failed to get a forward rush on the spare ball by the peg.
Sally Marsh took complete charge of the catering and served up delicious chicken and pork for lunch, following this up with a made-to-order sandwich service at teatime. All this while sharing the pavilion facilities with Flitwick Cricket Club on Saturday and Silsoe Park Rangers Football Club on Sunday. Our thanks to her and to Cliff and Jan Hayes.
Results
George Woolhouse beat Simon Carlsson +14
Rod Ashwell beat Jonathan Wolfe +25
David Marsh beat Don Gaunt +2(t)
John Bevington beat John Hall +14
Rod Ashwell beat John Bevington +23
David Marsh beat George Woolhouse +20
Jonathan Wolfe beat John Hall +15
Simon Carlsson beat Don Gaunt +18
Rod Ashwell beat David Marsh +6
George Woolhouse beat Don Gaunt +1(t)
John Bevington beat Jonathan Wolfe +18
Simon Carlsson beat John Hall +7
Rod Ashwell beat George Woolhouse +15(t)
David Marsh beat John Bevington +3(t)
Jonathan Wolfe beat Simon Carlsson +21
Don Gaunt beat John Hall +3(t)
Simon Carlsson beat Rod Ashwell +5(t)
David Marsh beat Jonathan Wolfe +1(t)
Don Gaunt beat John Bevington +5(t)
John Hall beat George Woolhouse +20
---