World championship day one overview - Woking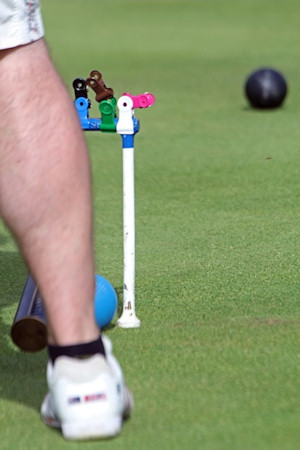 Croquet World Championships 2013 in play at Woking Croquet Club (Photo: Sara Anderson)
by Marcus Evans at Woking
11th August 2013 (
World Championship
)
Four players each from blocks C and D congregated at Woking Lawn Tennis and Croquet Club for the first day of the 2013 Association Croquet World Championships. Woking's two lawns have been superbly prepared and are in great condition. Most areas are fairly lush and green but a few brown patches are appearing which are more interestingly paced. The hoops in use are cast iron Townsends borrowed from Surbiton, and have been very well set - a couple of players thought them the most challenging they have played with this season.
Your correspondent drove to the club with David Maugham and we were slightly delayed by getting a puncture on the M25. However, we were able to change the wheel without incident and only arrived a few minutes late. This didn't prevent mine being the first game to finish, with Dave recording an identical scoreline shortly afterwards. Meanwhile, Ian Lines and David Magee were having a great battle on the other lawn in Block D, finishing only shortly before the second round of Block C. Ian eventually prevailed before going on to beat local hero Jeff Dawson, but Australian Jim Nicholls beat Ian in the final game. As I write Jeff has just pegged out against David in the final game to finish.
I managed three triples today and will be hoping to avoid Graham Gale's trick of not qualifying albeit I only have two wins after Dave beat me in a game of one ball. He is on 3/3 in Block C, a feat not matched by anyone here in Block D. Lewis Palmer made a welcome return to croquet after many years absent and is steadily improving. Dennis Bulloch had a good win against him in his All Black strip, playing in his usual relaxed manner.
I have much enjoyed my first visit to Woking and can highly recommend it, anyone else playing here during the rest of the week is in for a great day's croquet.
---