Nigel Polhill won the Letchworth August Tournament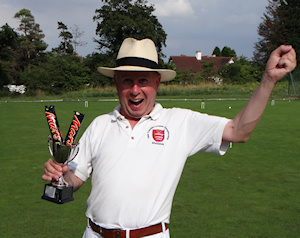 Nigel Polhill with Trophy and two Mars Bars for two tps (Photo: Duncan Hector)
by Andrew Gregory at Letchworth Croquet Club
25 August 2013 (
AC
)
The tournament started with triples from Nigel Polhill and Christian Carter. Polhill then twentysixed Carter; the latter then devoted himself to failing sextuples.
Overnight the three players in contention were those whose surnames ended in double L: Polhill, Simon Hathrell and Bryan Harrall. The Manager then discovered that Bryan's name has just one L, so he was eliminated.
By Sunday lunchtime the sun had come out and the Manager was able to implement a best-of-2 final between Nigel and Simon (ie a best-of-3 counting their Saturday game). Nigel won an error-free game 17tp on the sixth turn.
This left the crowd able to concentrate on the most entertaining game of the weekend. Harral achieved clips of 1 and peg, which provoked Carter to peg him out. Some turns later the ball-count was further reduced when a cross-court roll careered into the peg. Carter declared himself not unhappy with this development as he had a three-point lead. But Harral kept in touch and somehow overtook. We find him a yard or so in front of rover, with Carter similarly in front of his hoop: penult. Harral fails rover tentatively, leaving himself not quite in the jaws and runnable. Carter's hoop-stroke is too good, going 4 or 5 yards beyond rover. He misses what little he can see of Harral's ball, bouncing off the hoop to concede an easy finish.
The last game saw Joel Taylor win the Tournament of Two Halves award: winless on Saturday, lossless on Sunday. He almost completed his first TP, and is One To Watch.
Summary
Final (best-of-2) Nigel Polhill beat Simon Hathrell 17tp
Winner Nigel Polhill 5/5
Runner-up Simon Hathrell 4/6
3rd = Christian Carter, Bryan Harral, Joel Taylor 3/6
6th Nick Steiner 2/5
7th Terry Mahoney 2/6
8th Andrew Gregory 1/6
---