Samir Patel won the President's Cup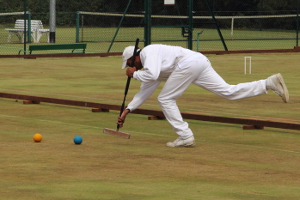 Samir Patel in action playing David Maugham in ther 2013 President's Cup. (Photo: Roy Tillcock)
by Robert Fulford at Ryde LT & CC
8 September 2013 (
AC
)
Samir Patel won the President's Cup with nine wins out of 14, with David Maugham, Keith Aiton, Stephen Mulliner coming joint second with eight wins apiece.
Samir was front runner after the first series of games, but by round 12 had been pegged back by David Maugham. In round 13 they faced each other both on 8/12 with the only other player in contention being James Hopgood on 7/12.
James soon lost to Keith Aiton to go out of contention. By then Samir and Dave were in a 3-ball game, Dave having completed a TPO. Dave had control with both players being cagey. Dave laid up at 1-back guarding second corner, with Samir for hoop 2 in corner 4. This time Samir decided to be agressive taking on the 35 yard shot, likely to give the game if he missed, he hit centre ball! This gave him an easy chance to get going and he finished the game to win +8TPO.
Round 14 started with Samir against Robert Fulford and Dave against Jeff Dawson. Dave had to win and hope Samir lost to reach a play-off. As it was Jeff played a great game to beat Dave +26TP. Dave missed both his lifts, one of which was a relatively short 10-yarder. Samir ended up losing to Rob in a which was of reasonable quality before Jeff had won, and didn't matter beyond that.
It is always a little lucky to win an eight outright on only 9 wins, but Samir was a deserving winner. He has a great relaxed style, and very good single ball shots particularly hoop running.
Ryde LTCC hosted this year's President's Cup for the first time. The grounds team (the club has a fantastic group of volunteers) had done a great job preparing the lawns. Many of the players arrived on Thursday to see the courts dry and the hoops very firm, though rain over the weekend meant conditions became easier as the event progressed. Thanks again to everyone at Ryde for making all the players so welcome.
Final Scores after 14 Rounds
Samir Patel 9
David Maugham 8
Stephen Mulliner 8
Keith Aiton 8
James Hopgood 7
Mark Avery 6
Robert Fulford 6
Jeff Dawson 4
---