Challenge and Gilbey Results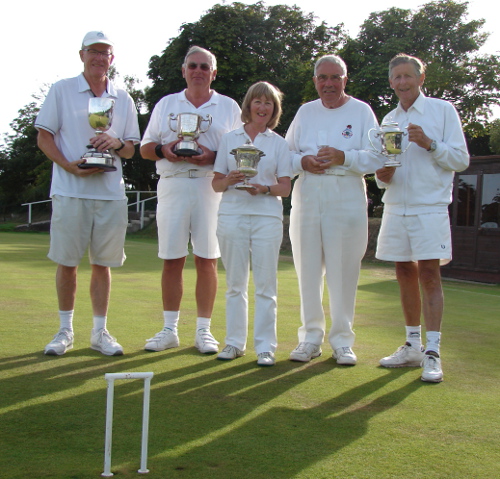 C&G winners: Mark Ormerod, Chris Donovan, Elaine Norsworthy, Quiller Barrett & Peter Miller (Photo: Julie Horsley)
by Julie Horsley at Budleigh Salterton Croquet Club
1 September 2013 (
AC
)
The President of the CA, Quiller Barrett had a very successful tournament at Budleigh Salterton. He won the Gilbey Goblet, beating Roger Mills from Sidmouth in the final by 21. He was also runner-up in his Block.
In the Class events, with the exception of one block, all were won with the winner having a 100% success rate.
The Roehampton Cup was won by Mark Ormerod from Dulwich/Hurlingham CC's with 7 wins out of 7. This was the first time that Mark had entered the Challenge and Gilbey.
Council Cup was retained by Chris Donovan from Budleigh Salterton CC with 6 wins out of 6.
There was a tie for the Reckitt Cup with Elaine Norsworthy and Quiller Barrett both with 4 wins out of 6. On who beat whom Elaine from Budleigh Salterton CC was the winner.
The Stevenson Cup was won by Peter Miller from Sidmouth CC with 6 wins out of 6.
Quiller Barrett presented the trophies.
---