Dulwich beat Surbiton at Parson's Green to win the 2013 Golf Croquet Inter-Club Championship 4-3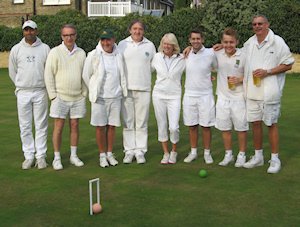 Dulwich and Surbiton teams at Parsons Green, with Pink still in hoop 13
by Simon Carter at Parsons Green
28th September 2013 (
GC - Inter-Club
)
Nailbiting was the best adjective to describe this titanic struggle! Parson's Green had kindly agreed to host the final, in an effort to find neutral territory between Surbiton and Dulwich. The former, under Captain Don Beck, fielded Samir Patel, Nick Cheyne and Nelson Morrow. For Dulwich, Captain Simon Carter wheeled out the big guns in the form of Ryan Cabble, Sue Lightbody and the legendary Belgian himself, Pierre Beaudry.
In the first round, Sue and Pierre took on Samir and Nick in the doubles, and claimed the first victory of the day, at 7-5,7-5. The Dulwich Duo never allowed the pressure to tell; Pierre running three from the boundary with force and accuracy to claim four in the process and level the game. Great teamwork. Meanwhile, in the singles, after a wobbly start against Nelson, Ryan found his strong form and bounced back from 5-7 to win the second 7-1, setting up a third game, which was a close call at 7-5 to Ryan. Simon never quite found his best form against a very much on-form Don, losing 6-7, 6-7.
So, at the lunch break, it was 2-1 to Dulwich.
Duly fortified by an excellent spread from the host club, play resumed. Pierre played at the top of his game; strong bold shots that dominated the two games against Nick, who though playing excellent croquet, wasn't a match for the Bulky Belgian, and Pierre won 7-3, 7-3. Meanwhile, Samir's calm, straight and accurate play had Sue struggling and she pulled out all the stops and played very strongly to finish 5-7, 6-7; a very creditable performance against such a strong player.
Meanwhile Captain Carter continued to fail to set an example by losing to Nelson 7-6, 5-7, 3-7, meaning that Ryan and Don's game would set up the decider.
And what a decider it was. Ryan convincingly won the first, 7-3, really finding his powerful and accurate form. But never write off The Beck; Don never flapped and continued to play his own game steadily and accurately in the second, winning 7-5.
So........the honour of two proud clubs hung in the balance.
Ryan set off as he meant to go on: great accurate play, jumping from seemingly impossible distances and clearing from all corners. At 5-2 up, he looked like a certain winner. But then, faced with a ball a yard in front of hoop 8 to go 6-2 up, he clanged it off the wire at high velocity and Don began his come back....5-3....5-4.....5-5....Ryan clearly was feeling the pressure on his youthful shoulders and when Don went 6-5 up The Beck had a spring in his step and Ryan's shoulders drooped. Ryan ran 12 to level the score and take it to the closest possible final....
Don's approach to 13 was short (how often we see that in tense finals) but Ryan didn't really capitalise on it. A battle ensued with thoughtful play until Don cleared Ryan, and in the process lodged his own pink ball in the hoop. With another ball blocking, Ryan was forced to jump, from only a metre in from the boundary.....the crowd held their breath.....the nation waited.....and Ryan did it! The ball hit the underside of the cross bar, fell onto pink, and skipped through.
A dramatic end to a great final.
Detailed Results
(Dulwich players first)
Sue Lightbody (1) and Pierre Beaudry (0) bt Samir Patel (0) and Nick Cheyne (0) 7-5, 7-5
Pierre Beaudry bt Nick Cheyne 7-3, 7-3
Sue Lightbody lost to Samir Patel 5-7, 6-7
Simon Carter (0) lost to Don Beck (0) 6-7, 6-7
Ryan Cabble (0) bt Nelson Morrow (0) 5-7, 7-1, 7-5
Simon Carter lost to Nelson Morrow 7-6, 5-7, 3-7
Ryan Cabble bt Don Beck 7-3, 5-7, 7-6
---