CA won the Vera McWeeney Trophy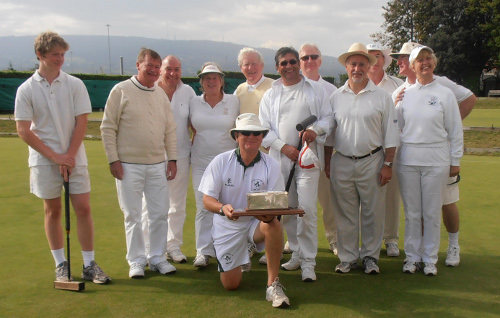 C and CAI McWeeney Teams 2013 (Photo: Paul Rigge)
by Paul Rigge at Carrickmines C & LTC
29 September 2013 (
International
)
The Vera McWeeney Trophy was retained by this year's CA squad in Dublin, over 28/29th September.
Carrickmines C<C hosted the event and six first-time visitors travelled over from four different airports to contest this AC Advanced test match. On paper the Irish did have a slight advantage, having requested 'B/C' class players be sent this campaign to pair with their availability. However, due to a couple of late unavoidable withdrawals from their squad, the balance of strength swung in the CA's favour as play commenced.
Teams
CA
Peter Wilson (1.5)
Liz Wilson (2.5)
Paul Wolff (4)
Andy Brandwood (5)
Betty Bates (9)
Garry Wilson (12)
CAI
Nathaniel Healy (0)
Frank Martin (5)
Nigel Werner (6)
Gerard Osborne-Bourke (7)
Joe McGowan (8)
Mathew Martin (12)
The Irish are known the world over for being hospitable and this weekend reinforced that stereotype. We were made very welcome, players were billeted with CAI members, the tournament dinner was a huge domestic party with much laughter and conversation - or perhaps I should say 'craic'. Do I need to say that the games were played universally in good humour under bright warm sunshine?
The final result (17-7) matters less than the fact that it has been held, this the thirtieth contest, and the win puts clear water between our two associations with the totals now 16-14 in England's favour.
Two players deserve name checks, both Irish; Nathaniel Healy for producing the only Triple of the event and Mathew Martin - a very promising young talent who had to get permission from his school to participate, Vera would have loved to have seen him play.
Thanks are due to Nathaniel for managing the event (and for ensuring it happened), and also the Club & its members for their hospitality at the club and for opening their homes to us.
Full Results (CA Names First)
Wilson L & Bates beat Healy & Martin M +22
Wolff & Brandwood beat Osborne-Bourke & Martin F +22
Wilson P & Wilson G beat McGowan & Werner +21
Wolff P lost to Healy N -23tp
Wilson P beat Martin F +3t
Wilson L beat McGowan J +24
Bates B beat Werner N +5t
Wilson G lost to Osborne-Bourke G -9t
Brandwood A lost to Martin M -15
Wilson P lost to Healy N -14
Wilson L beat Martin F +26
Wolff P beat McGowan J +8t
Brandwood A beat Werner N +6t
Bates B beat Osborne-Bourke G +3t
Wilson G lost Martin M -11
Wolff & Brandwood beat Healy N & Martin M +7
Wilson P & Wilson G beat Osborne-Bourke G & Martin F +13
Wilson L & Bates B beat McGowan J & Werner N +4
Wilson G beat McGowan J +15
Wolff P beat Martin F +18
Wilson L lost to Healy N -4
Wilson P beat Werner N +13
Bates B lost to Martin M -5
Brandwood A beat Osborne-Bourke G +4.
Photo: (all, l-r) Mathew Martin, Gerard Osborne-Bourke, Andy Brandwood, Liz Wilson, Joe McGowan, Peter Wilson, Paul Wolff, Nigel Werner, Garry Wilson, Frank Martin, Betty Bates, Nathaniel Healy (Kneeling).
---