Queen's College beat West Buckland School in End of Season Game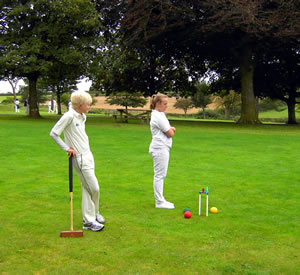 Players at the West Buckland V Queen's Taunton Schools Match (Photo: Andrew Watkinson-Trim)
by Andrew Watkinson-Trim at West Buckland School
25 September 2013 (
Other News
)
West Buckland's fledgling but flourishing Croquet Club ended its season late this year with the final match played at the school against Queen's Taunton on Sunday (22nd September). The match was carried over from the summer term when wet weather resulted in a series of fixtures being cancelled.
Queen's Taunton brought a team of experienced sixth-form players across to meet West Buckland's mainly Year 7 novices... so it is fair to say Queen's started and finished hot favourites. Even so, West Buckland players put up a good fight and even managed one draw and one win (out of eight games played) in a contest which saw lots of good humour and fun. West Buckland students measurably improved their game during the course of the afternoon and are keen to play more. The school looks forward to travelling to Queen's Taunton for a return match next season.
Mr Watkinson-Trim who runs the club at West Buckland said: "Anyone running a Croquet Club with North Devon weather must have great faith! We had to cancel fixtures at the end of the summer term because the weather was so bad, only to enjoy a perfect summer of ideal croquet weather... when everyone was on holiday. Nevertheless, it's been a most enjoyable season and our players have gained some valuable experience and are already looking forward to our matches next year."
---