Peter Balchin won the GC All England Handicap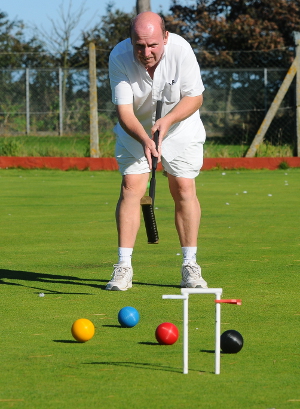 All England Winner Peter Balchin in play. (Photo: Chris Roberts)
by Chris Roberts at Hunstanton Croquet Club
22 September 2013 (
GC
)
There is a mantelpiece in Pontypridd, South WALES on which sits an All ENGLAND cup - how bizarre, but how well deserved!
Dyffryn's immensely likeable golf croquet ambassador, Peter Balchin, beamed a huge smile all weekend at the National Final of this CA handicap competition, but it was a face of delight when he learnt that a victory that he thought he had thrown away was finally secure.
Balchin was the best player on paper at handicap 1, and coped with having to concede extra turns in every game with seeming ease, setting quite a pace in the 16-player 'all play all' final event that few could live with.
He enjoyed an unbeaten first day and earned a two-win lead over his nearest rival at Hunstanton.
Into the second morning Balchin maintained his advantage and cemented his position with head-to-head victories over others stretching for his shirt tails.
Winning often, but needing a slip from the leader, were Rich Waterman (handicap 3 from Maldon), Nick Westmore (5, Ryde), Graham Good (6, Bury) and Ian Norris (2, Phyllis Court). Everyone was hoping for the Welshman to falter and wondering who could possibly peg back his progress. The answer came from Geoff Johnson (3, Watford) whose tight 7-6 win pricked the Balchin bubble and signalled an unexpected slump for the man who had looked every bit the nailed-on champion. Another single point loss followed - to Robin Wootton (2, Sussex) - and then a real surprise 2-7 reverse to Ian Dampney (2, Broadwas).
This let in both Waterman and Good with the former in the box seat with a single win advantage. But the Maldon player fell at the last when he had one hand on the trophy, Good crashed too and Balchin reclaimed top spot from Waterman, courtesy of that earlier head-to-head win. Good finished a creditable third, one win adrift, and Westmore pipped Norris, again on count-back.
Manger Frances Colman ran an enjoyable, tightly controlled and very timely event for the second year running and was kept increasingly busy as principal on-call referee to boot. Director Chris Roberts was kept amused with a crayon.
CA Chairman Jeff Dawson made the long trip from Woking to present the All England Cup to Balchin who was a very popular winner indeed.
---