Ian Norris won the National Golf Croquet B-Level Series Final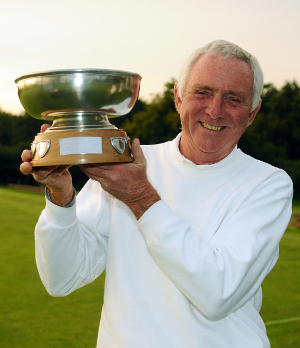 Ian Norris with the B-Level Trophy (Photo: Chris Roberts)
by Chris Roberts at Hamptworth Croquet Club
12 October 2013 (
GC
)
Ian Norris of Phyllis Court is the first ever National Golf Croquet B-Level Champion.
He backed up a hat-trick of qualifying tournament victories with a cliff-hanger Final event victory at Hamptworth.
Twelve players from eleven different clubs contested this inaugural event which even attracted one overseas qualifier in Janis Steins, all the way from Latvia.
He had won the very first qualifying event at Southwick which happened to coincide with the end of a WCF sponsored coaching and referees qualifying course.
Steins started well and looked to be the early favourite despite Norris' consistent achievements throughout the season, but the Latvian soon disappeared from the bock winners standings.
The two block of six provided two semi-finalists each and other players played repechage games for the minor places.
Norris had one reverse in block games and qualified with ease for the semi-finals where he defeated John Smallbone of Watford for a place in the final against the host Club's David Cooper.
Cooper was the one who had scalped Norris in the block round and so the final presented Norris with a pay-back opportunity.
If Cooper had any kind of psychological advantage from the earlier win, it didn't show in the early stages of the final, as both players made a steady starts and trading hoops in turn.
The local man cleared exceptionally well time and again from distance to counter Norris' often inch perfect ball placement, perhaps owing much to the latter's formidable skills in the 'small ball' golf game.
A perfect jump shot from Norris drew applause from Croquet Association Chairman Jeff Dawson, visiting croquet doyen William Ormerod, along with Frances Colman and Chris Roberts who were managing the event.
It looked however that Norris had 'blown it' when he lost the 11th after an uncharacteristic poor approach and a hoop later he was facing defeat going second to the last hoop.
But some jitters from both men ultimately proved more costly for Cooper who for once missed a clearance to give Norris a tap in for the Championship.
He was all smiles when Jeff Dawson presented him with the unique pewter bowl trophy donated by Jennet Blake.
Full results are on www.croquetscores.com
---