Lee Hartley won the John Beech Memorial Easter Tournament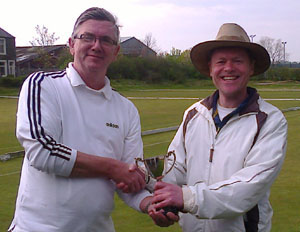 Lee Hartley (right) presented with the Dowdall Trophy by Paul Rigge
by Paul Rigge at Pendle & Craven
21 April 2014 (
AC
)
Lee Hartley retains the Peter Dowdall Cup (for Advanced play).
Roger Schofield Wins the John Beech Trophy.
High Hcp Trophy (10+); Joe Lennon.
Low Hcp Trophy (<10); Lee Hartley).
Fastest Game; Roger Staples.
Leisure Trophy (most games played); Andy Brandwood.
Four days play in fine, dry and mainly warm weather was again the order of the day in Earby over Easter for this year's 'John Beech' after last year's seriously minus degree frozen expedition.
The main handicap event is run as an Egyptian but by the finish only two points separated third place from the winner, necessitating the manager checking and rechecking each card to validate the victory in Roger Schofield's (Hcp2) favour from Lee Hartley (Hcp -0.5) & Andy Brandwood (Hcp 4.5).
In the Advanced All play All Block, the manager's nightmare continued with three players tying for the title on the same wins; on who beat who - still a tie, so net points finally broke the stalemate in Lee's favour.
The courts were green with very firmly set hoops and looking at the repairs to court 4, it won't be long before Pendle & Craven return to being a five lawn club again having improved the clubs drainage.
Always known as a friendly tournament, with much banter & beer - the bar is sponsored by a certain croquet playing micro brewery proprietor after all, and this year was no different with all competitors vowing to return again and again.
Did I mention the food yet? Each day, bang on 12:30 copious amounts of hot fare followed by pudding were enjoyed and the time honoured 'tradition' of tea @ 4pm was of course observed to stave off any hunger pangs!
---