Inspirational Sportsmanship at the World Team Championships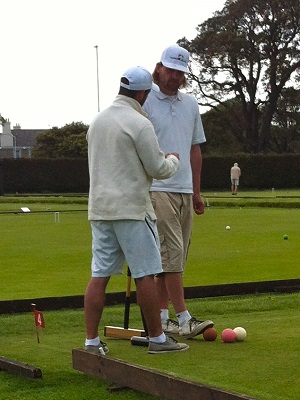 by Dom Nunns at Southwick
16th May 2014 (
Other News
)
I dropped in for a while at the World Team Championships T2.2/3 at Southwick (near Brighton, UK) earlier today. It was great to see my club bustling with the buzz of international competition. The teams in contention seem to be Spain, Sweden and Austria.
I was hoping to see some good play and meet a few people, which I did, but what will live long in the memory was a display of the finest sportsmanship, not to mention a very exciting match:
Jose Riva (Spain) had attempted a sextuple peel, but with a secondary option of a rover peel and peg-out on his opponent Miroslav Havlik (Czech Republic) if the sextuple wasn't quite happening. After completing three peels Jose aborted to the insurance option leaving a three-ball ending.
Miroslav was showing himself to be a dead-eye shot, with single ball shots on the day which were comfortably A-class. However, it was clear there were a number of tactical situations he was relatively unfamiliar with, for example forgetting his contact (but hitting the 15-yarder anyway).
As the game approached time, Miroslav was for rover and Jose was for penult and peg; so there was a one-point advantage for the outsider, provisionally ranked around world number 541 to Jose's 67. Miroslav hit his 40-yarder at a double target, finishing with a corner cannon in corner 2.
Time was then called. However, it became apparent that Miroslav was unsure what to do with his cannon. Despite the nail-biting nature of the finish, Spain's position in the tournament and the large number of ranking points at stake, Jose appeared to help Miroslav by explaining not only the rules of the cannon situation but at least two sensible tactical options Miroslav might want to consider.
Miroslav then duly approached rover. Given he was a point ahead, the tactical consensus of the crowd was that he might well have considered dodging the risk-laden 5-yard angled hoop he left himself and run away north, hoping Jose missed a 25-yarder. However, in keeping with the spirit of the match he went for death or glory, ran the hoop and finished.
Congratulations to both players, and here's hoping croquet continues to provide these sorts of moments for many years.
---