The Sue Mackay Report on the AC Inter-County Championship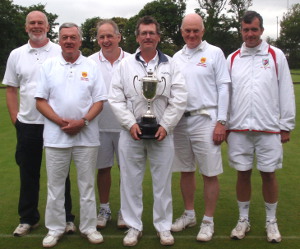 Winning Glamorgan Team (Photo: Garry McElwain)
by Sue Mackay at Sussex and Compton Croquet Clubs
28 May 2014 (
AC - Championships
)
There is a new name on the Inter Counties Cup. Glamorgan emerged as winners of the 100th Championship for the first time in their history, with 8 match wins. Their team of Chris Williams (captain), Ian Burridge, John Evans, Garry McElwain, David Walters and debutant Richard H. Smith was the strongest they had ever been able to field, and four of their victories were 3-0. Richard has a middle initial to distinguish him from Richard M. Smith of Hertfordshire - the H stands for Huw, spelled the Welsh way of course!
Surrey were runners-up with 7 wins, and were undefeated until they l28 may 2014ost to Glamorgan at Compton on Day 3. Double banked with this match was a re-enactment of the Wars of the Roses, with Lancashire emerging triumphant with their first match win. Flushed with this success they then went on to do Glamorgan a huge favour in the next match by beating Surrey. Glamorgan had had a disastrous second day, losing to Suffolk and Somerset, so both Glamorgan and Surrey started the final day at Southwick with only two losses. Suffolk and Hertfordshire had fallen away after strong starts, with weakened squads on the second two days, and the only team that could catch Glamorgan or Surrey for the Championship was Nottinghamshire. The holders had rallied from a disastrous start, but with a bye at the start of the final day it seemed unlikely they would retain the trophy.
Glamorgan's first match of the final day was against Gloucestershire, and the top pairing lost quickly to David Foulser and Dave Kibble, but Chris Williams and Garry McElwain equalised soon afterwards. The third pairing game was tense, as Richard failed to peg out the front ball, but after several attempts Ian Burridge finally hit the peg from Corner 1 with a satisfying thwack. Surrey had thrashed Hertfordshire, so it all came down to the final match, although the odds were on Glamorgan because they had a superior games tally. In the event when Paul Smith pegged out to give Gloucestershire a 2-0 lead over Surrey, the Championship was assured for Glamorgan. Glamorgan had won their first game quite easily against Hertfordshire in the final match, but seemed to be doing their best to throw away the other two games. With the pressure off, however, they salvaged both games to win 3-0, thus taking the Championship outright with one more match win than Surrey.
Middlesex swept all before them in the Second Division. Their team of Nick Parish (captain), Christian Carter, Eugene Chang, Gabrielle Higgins, Nigel Polhill, Jose Riva and Lionel Tibble won all 10 matches, and their 28 game wins was the highest total ever recorded at the Counties. Indeed until Essex took a game off them in the final match their only loss had been to concede one game to Wiltshire, who won the wooden spoon with no match wins at all! Nick Parish had an easier win than he might have expected to clinch their tenth victory. He was playing with Eugene Chang at third pairing against Robert and Susan Fulford, and Robert did a QPO on Eugene and peeled Susan through a couple of hoops, only to concede a contact and a four ball break to finish when he pegged out Nick's ball instead of Eugene's - a first for Robert that he wouldn't want in the record book!
Berks/Oxon were runners-up in the Second Division, their only loss being to Middlesex. Competition for the third promotion place was a little stronger, but in the end Sussex prevailed with 6 wins and will play in the First Division next season. Gloucestershire's heroic win against Surrey not only sealed the Championship for Glamorgan but also safeguarded their place in the top flight, at the expense of the Channel Islands. Also relegated were Lancashire, despite a late surge to achieve 3 wins, and Yorkshire, who failed to win a match, even with their Yorkshire Ferret mascot. Yorkshire's captain, John Davis, maintained that in honour of Rotherham United's play-off victory they had been attempting to keep an entirely red and white score line on the board!
This year there was a new allocation of lawns at Southwick, designed so that there would be a spot where team members could stand and view progress in all the games in their match. This system went down well, and will probably be extended to Compton in future, with two pairings from the same team double banked. The only fly in the ointment this year was that because of a lawn repair around Hoop 4 on lawn 4 at Southwick, which had not fully recovered, it was decided to single bank this lawn and double bank lawn 10, with the result that most teams had to play at least one match on lawns 2,3 and 10.
It was good to see more women than usual taking part in the Counties. The future also looks good, as there were two very young supporters. Paddy and Miranda Chapman were always paired with each other for Nottinghamshire so that 10 month old Oliver could watch from his buggy and always be with one of them. He was not the youngest spectator, however, as six week old Alex Evans, sporting a Babygro emblazoned with the words "Future Croquet Player", slept through most of the proceedings, although he might have got a bit alarmed when Dad Marcus started a match on the final day with Alex strapped to his front in a baby carrier, which looked a bit dodgy when rolls were attempted!
Wiltshire may have been awarded the wooden spoon but won the sartorial stakes with three of their number wearing green and white checked trousers. Richard Griffiths also sported the Channel Islands flag painted on all his finger nails, and several teams had county logos on their shirts. Sadly, apart from one glorious day on the Sunday, "Counties Weather" prevailed and this reporter was having difficulty identifying players from a warm and dry club house as they all looked like Michelin men. Southwick's Bow Dry roller was again pressed into service, but in the end all matches were completed, except one, between Wiltshire and Hampshire.
There was drama on Sunday at Southwick when Dorset's Strat Liddiard was stung on the throat by a bee. Dorset had two retired GPs in their team but in the end it was partner David Williams who applied first aid by removing the sting. Strat was recovered by the following day at Compton, only to discover that William Ormerod had been called home because his wife had been taken to hospital, and that John Crowe, who was dependent on William for transport, had gone back to Dorset with him. This meant that for the remainder of the tournament Dorset had to concede one game, and their opposition third pairings had to play singles against each other to keep in practice.
Jose Riva and Lionel Tibble played as a Middlesex pairing for the first two days. Jose is a Spaniard and slight in stature, whilst Lionel is very tall, so it was perhaps inevitable that they should address each other as Manuel and Signor Fawlty. (Jose had never actually seen Fawlty Towers) There was also much ribbing by Somerset and Gloucestershire players who had finished their final game and were watching David Goacher attempt, and finally abort, his first sextuple, despite a wonderful jump shot at 3 back to enable him to roquet the escape ball and then rush the jawsed peelee towards 4-back, though not near enough for him to attempt the 4 back peel. As usual the Championship was played in great good humour and saw some first class turns as well as some truly appalling play. Perhaps most amusing (though not to him!) was when James Hopgood made a 9 hoop break, only to have it nullified when it was realised he had made it with Keith Aiton's ball. He then made a second 9 hoop break with his own ball but they still lost the match, much to James' disgust.
Matt Holmes could not play this year and so there was no Triple Peel beer, but as usual the catering at both Southwick and Compton was superb, as was the preparation of the lawns, and huge thanks are due to both clubs for again hosting such a wonderful festival of croquet.
---