Nathan Baker won the Fylde Handicap Jubilee Cup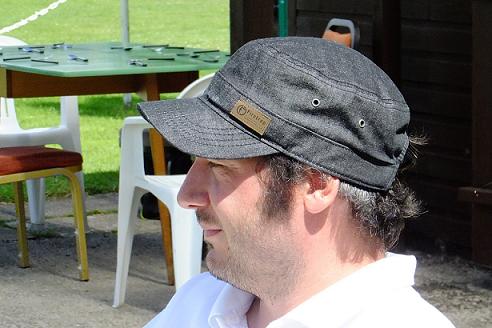 Nathan Baker (Photo: Liz Wilson)
by Peter Wilson at Fylde
27th July 2014 (
AC - Handicap
)
Now in its third year, promoting friendly competition, the tournament filled up early again:
Alison Heywood Hill (18) Tyneside, Colin Green (11) Tyneside, Joe Lennon (9) Glasgow, Philip Bass (22) Fylde, Catherine Bass (22) Fylde, Eileen Rossiter (18) Southport, Eileen Galagher (10) Southport, Harry Midgley (4.5) Phyllis Court, Rena Souten (18) Huddersfield, Nathan Baker (18) Fylde, Denise Hoyle (22) Huddersfield & Marjorie Eldon (11) Huddersfield.
The tournament provided a spectacular sight for the members of Fylde who have worked over the years at improving the facilities and the lawns. All these being well received by the visitors who bronzed themselves in blazing Sunshine on day one. Real Bronze Awards went to Catherine Bass and Rena Souten in round two.
After the first three games of the five round Swiss, Nathan was unbeaten and six players were on two wins. A happy situation for me, as the tournament would therefore be unresolved until the final game. Overnight the lawns soaked up the rains unlike the visitors, who were too exhausted to soak up the Blackpool night-life. Sunday morning found them both fresh as a Daisy and ready to go as LS739 to Alicante roared down the runway. We get the usual wave from the co-pilot as they climb over the lawn. Sorry for them, missing all this Sunshine.
As I write, Nathan has run out of bisques trying a double peel finish. There is plenty of time for Harry who has yet to use his half bisque, but at the end of an exciting game Nathan moved forward. Valiant effort from H. The ROT has done his usual pre lunch inspection and is calling for more Coriander on the Aubergine and Feta Mezze. This now being attended to, there being no appeal. The debate regarding balls moving due to fracking rumbles on. Other critical games conclude. Colin Beat Denise, Rossy beat Rena and Catherine beat Alison. Setting up a situation where a three way tie was possible if Colin could beat the local man in form.
This did not happen. After Colin got to peg, Nathan, playing in his first (free) CA Tournament, finished with the trademark peel and peg out. Runner up: Catherine Bass.
---