Newcomers Middlesex led all the way in the GC Inter-County Championship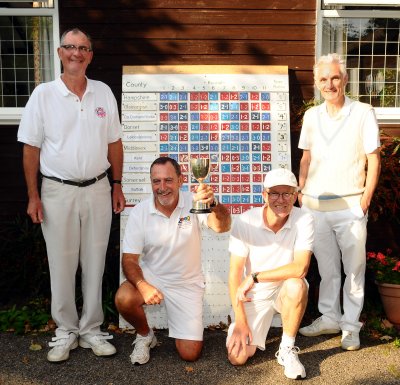 The winning Middlesex Team (Photo: Chris Roberts)
by Bill Arliss at Southwick
13 Sep 2014 (
GC - Championships
)
In their first venture into GC Inter-Counties, Middlesex produced a team that was able to take the lead from round one and maintain a 100% record until the very last round when they met last year's champions, Leicestershire in the final round and conceded a 2-1 defeat
Twelve counties contested this event over the weekend of 13/14 Sept using all eleven of the Southwick lawns. Other than the very heavy dew first thing in the mornings , conditions were quite ideal with sunshine for most of the play. This was really a new era for this event with the strongest entry by far. It was also the first time that entries exceeded the maximum and the event started with a playoff of Gloucs/Worcs, Oxfordshire and Middlesex at Hampworth in early May. These team were the bottom team from the 2013 event and the two teams that did not play in 2013. Middlesex showed their strength with a clear win in the playoff with the Manager having to use the small print to separate the other two teams. Gloucs/Worcs just lost out. Ivor Brand the Captain of Gloucs/Worcs has made it very clear that it will be all systems go for a return of his team in 2015.
Another very promising feature of this year's event was the attendance of most of our younger top players. Previous winners Kent struggled hard but only managed a 7th place finish whilst last years winners , Leicestershire, lost three early matches but fought in the later rounds to collect 3rd place. Surrey, yet another previous winner played a steady event to collect nine wins and 2nd place.
Because of the very likely possibility of a playoff for 2015, pressure remained on the bottom teams right to the very end to keep out of the playoff zone. Although Suffolk managed a final round win against Somerset to leave both teams with three wins, Suffolk retained the wooden spoon with a smaller games total. Both Somerset and Sussex finished with 3 match wins and 13 game wins but Sussex came out on top when the published who beats whom criteria was used.
Hopefully we will be able to find a workable format that allows an increased entry in future years and we are already looking at possibilities as this appears to be a very popular competition. However initial work would suggest that we may have to increase by at least four entries to make this possible and it will most likely mean multiple venues and an increase in days.
The final results table is as follows. The who beats whom criteria separate the equal match and game wins.
| County | Matches | Games | Position |
| --- | --- | --- | --- |
| Middlesex | 10 | 24 | 1 |
| Surrey | 9 | 21 | 2 |
| Leicestershire | 8 | 21 | 3 |
| Yorkshire/Durham | 7 | 17 | 4 |
| Hampshire | 6 | 18 | 5 |
| Glamorgan | 5 | 15 | 6 |
| Kent | 4 | 16 | 7 |
| Dorset | 4 | 16 | 8 |
| Oxfordshire | 4 | 14 | 9 |
| Sussex | 3 | 13 | 10 |
| Somerset | 3 | 13 | 11 |
| Suffolk | 3 | 10 | 12 |
---