Phill Scarr won the Southport Advanced Tournament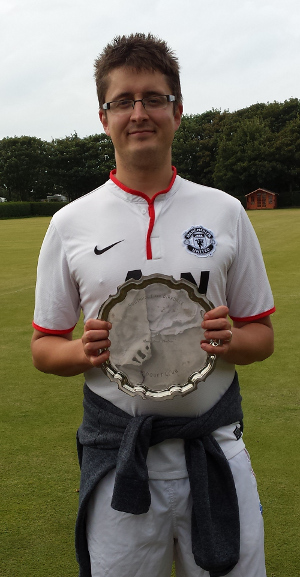 Phill Scarr won the Southport Weekend (Photo: Dennis Scarr)
by Dennis Scarr at Southport
16th September 2014 (
AC
)
Phill Scarr ( Middlesbrough ) retained the Sandiford Salver beating Tom Griffith( Crake Valley ) in the final.
Late summer sunshine visited Southport lawns for both days of the Advanced Play Tournament to the extent that for a period on Saturday afternoon out players were actively seeking shade.
Lawns were in good condition for this end of season gathering and Manager Tom Griffith kept the play moving at a steady pace to ensure players took full advantage of excellent catering.
The tournament format was 2 Blocks of 4 players producing semi finalists from those finishing first and second in their respective blocks. Handicaps ranged from - 1 to 4.5
The semi finalists from Block A were Tom Griffith who won 3/3 and Derek Knight who had the highest net points score given 3 players in the block each won 1/3.
The semi finalists from Block B were Phil Scarr who won 3/3 and Ray Lowe who won 2/3.
Sunday morning saw the semi finals.
The semi final between Tom Griffith and Ray Lowe saw both players failing in attempts to peg the opponents forward ball out until ultimately Ray succeeded in this quest but unfortunately managing to peg his own forward ball out in the same stroke. The impromptu game of 1 ball with Tom on 1b and Ray on 4 was won by Tom plus 1.
The semi final between Phill Scarr and Derek Knight was less eventful with Phil continuing to play controlled croquet to win plus 20.
First game of the final saw Phill fail a TP attempt with a missed peg out however he shortly thereafter won the game plus 22.
In the second game of the final Phill completed a TP to win plus 26 TP.
FULL RESULTS
Brian Kerr beat Dennis Scarr + 8
Tom Griffith beat Derek Knight +3 TP
Dennis Scarr beat Derek Knight +1 (t)
Tom Griffith beat Brian Kerr +13
Tom Griffith beat Dennis Scarr +15
Derek Knight beat Brian Kerr +13
Phil Scarr beat Kilm Seabright +26 TP
Ray Lowe beat Alan Pidcock +3
Phil Scarr beat Ray Lowe +15 TP
Alan Pidcock beat Kilm Seabright +13
Phil Scarr beat Alan Pidcock +16
Ray Lowe beat Kilm Seabright +19
Phil Scarr beat Derek Knight +20
Tom Griffith beat Ray Lowe +1
Phil Scarr beat Tom Griffith +22
Phil Scarr beat Tom Griffith +26 TP
Brian Kerr beat Alan Pidcock +5
Kilm Seabright beat Dennis Scarr +4 (t)
Derek Knight beat Ray Lowe +3
Brian Kerr beat Kilm Seabright +15
Dennis Scarr beat Alan Pidcock +3
---