Jordan Waters won the Roehampton Handicap Singles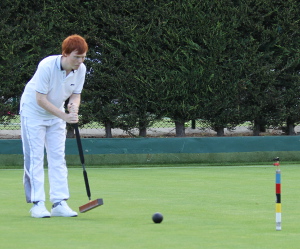 Jordan Waters in Play at Roehampton (Photo: Mike Hann)
by Mike Hann at Roehampton Club
21 September 2014 (
AC - Handicap
)
Roehampton's 3 day autumn tournament enjoyed good conditions and sunshine on their excellent lawns. Play was in two blocks of six players each where handicaps varied between -0.5 and 16, and the tight hoops provided a challenge to most competitors with almost a third of the matches going to the three-hour time limit.
Jordan Waters emerged as yet another outstanding prospect from Ian Plummer's school of excellence at Oxford University which has provided so many top players over the years.
Playing off 10, he only had one hiccup when beating several seasoned oppponents, particularly in the final where he kept his head to beat Roehampton's Peter Siddall in a game requiring tactical skill at the death.
More detailed results are:
Jordan Waters 6/7
Peter Siddall 6/7
Wendy Spencer Smith 4/7
Tim Russell 4/7
Arthur Lindley 4/7
Bob Prichard 4/7
Jonathan Toye 4/7
Douglas Gurney 3/7
John Pearson 2/7
Collin Southern 2/6
Philippa Cardale 1/6
Caroline Denny 1/7
---