Robert Fulford Won the Western Championship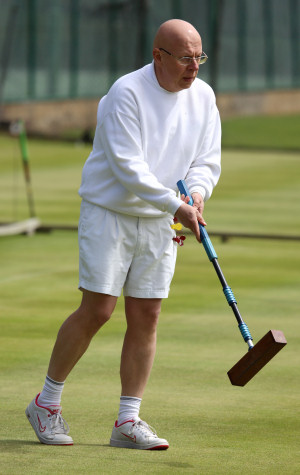 Robert Fulford in play during the Final of the Western Championship (Photo: Samir Patel)
by Roy Edwards at East Dorset LT&CC
4 May 2015 (
AC - Championships
)
Fourteen Players contested the Western Championships at East Dorset under the new regulations for class one tournaments where super advanced had to be played in all matches. The May Bank Holiday weather was very cold but all the rain fell overnight. The lawns were reasonably fast and the hoops set at one thirtysecond in firm ground.
The matches were very interesting to watch because of the extra variety and different tactics this format gives. The seeds Fulford, Maugham, Mulliner and Patel were given some stiff opposition in high quality matches and only Fulford progressed relatively easily to the final.
In the second round Chris Williams suffered a costly grievous against Mulliner attempting his peg out from distance on a sloping lawn to lose 2-1. In the quarter final Mulliner lost to Pete Trimmer in spite of some impressive play and pegging his opponent out twice. A very popular Jose Riva, whose shooting was most impressive, lost a hard-fought three game quarter final against David Maugham who was managing the event for the sixteenth consecutive time.
The tactics were very different from normal advanced play and many more contacts were given but I did not see any placements conceded. There were many TPOs and QPOs but not all were successful. Not many sextuples were attempted and only Samir Patel completed one in the main event. The semi finals were between Maugham and Patel and Fulford and Trimmer. The final looked as if it was going to two all after Patel had completed his QPO in the fourth game but he missed a shortish shot at the start of his three ball break so Rob Fulford is once again champion after a break.
Jose Riva beat Chris Williams in the final of the Plate.
---