Reg Bamford won the GC Open Championship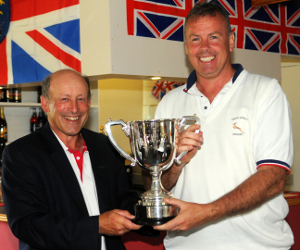 Reg Bamford receiving the Trophy from CA Vice-President Stephen Mulliner (Photo: Chris Roberts)
by Rachel Rowe at Sussex CC
20 June 2015 (
GC - Championships
)
Reg Bamford retained the British Golf Croquet Open title in the strongest ever field at this event.
Thirty-two players congregated on Thursday morning to contest the 2015 British Open Championship at Sussex County Croquet Club, Southwick; the field included seven of the top 50 ranked players in the world.
Many of the players had been playing in the doubles over the previous two days, this was clear from the results of some of the Thursday morning games. The youngsters dominated the knock-out - with John-Paul Moberly, Will Gee and Harry Dodge all getting to the semi-finals. Harry and Reg won the semi-final matches on Sunday morning.
Harry took the first game of the best-of-3 7-6, and Reg won the final two games 7-2 7-4 for the Championship.
Harry Dodge and Pierre Beaudry won the Doubles.
John Van Der Touw won the Plate, Pierre Beaudry won the Bowl and Stephen Mulliner won the Shield.
---