Pink Flamingos fly into Nottingham and raise £800 for charity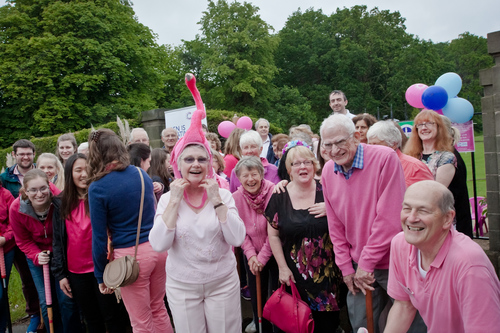 Patricia Duke-Cox with some of her Flamingos (Photo: Vika Nightingale)
by David Brydon at Nottingham
26th June 2015 (
Other News
)
Nottingham Croquet Club held a fun croquet day on 14 June to boost public awareness of next month's Women's AC World Championship and to raise funds for charity. Sponsored by Belvoir Fruit Farms, the event had a pink theme throughout, and also celebrated (or exploited) it being exactly 150 years since the publication of Lewis Carroll's Alice's Adventures in Wonderland.
Over 100 people attended, including at least 70 who were swinging a serious mallet for the first time, and most of these wore pink. The event raised just over £800 for WACWC2015's linked charity Cancer Research UK.
In thanking all who helped make the day a success - despite the drizzle - Chief Aviarist Patricia Duke-Cox confirmed that no flamingos or hedgehogs had been harmed on the day.
NOTE The photo is used by permission and can be found at the end of the album on Vika's website here: www.vikanightingale.com/pink-flamingo
---