Ian Norris won the Guildford and Godalming GC Handicap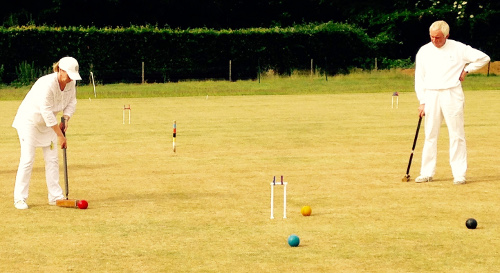 Julie Tremble in play against Ian Norris (Photo: Mike Huxley)
by Mike Huxley at Guildford and Godalming
24 June 2015 (
GC
)
It was a full house of 16 competitors for the third Golf Croquet handicap competition for PJ's Pot at Guildford and Godalming. Handicaps covered a wide spectrum from 1 to 10. Morning play was in four groups of four, all play all, with the top two from each group proceeding to an afternoon knockout while the third and fourth went on to contest two further groups.
Conditions were tricky, particularly on Court 1 where the hoops, freshly set in very hard ground that had suffered from a prolonged dry period, were vigorously rejecting any balls that were not absolutely dead centre. From the observer's point of view, it almost seemed as if the hoops had taken on the attributes of pinball bumpers, adding energy on the rebound! Nevertheless, the players set gamely about their task.
The first significant result of the day came in the first round, when Joan West (6, Guildford & Godalming and a couple of months short of her 90th birthday) beat Ian Norris (1 effective -2, Phyllis Court) by seven hoops to two with an impressive display of accurate hoop-running. Ian recovered from this reverse by winning his next two games and finishing runner-up to Joan in the group, so qualifying for the quarter-finals. Meanwhile, Julie Tremble (8, Guildford and Godalming), Brian McCausland (2 effective 0, Nailsea) and Peter Dowd (5, Northampton) were winning the other groups.
The quarter-finals over, the semi-finalists were Ian Norris v Julie Tremble and Peter Dowd v Hugh Brown (7, Lodsworth). Peter won his semi relatively comfortably but Ian had a real struggle on his hands against Julie, just making it through 7-6. This set up the final between Ian and Peter - and what a final it was! Peter, having taken up croquet less than a year ago and already down to a 5 handicap, had seven extra turns and the game was being played on the difficult Court 1. The game was utterly absorbing for the onlooker. Slowly but surely, Ian crept out to a 6-2 lead, but Peter had conserved more than half of his extra turns. 6-2 became 6-6 after Peter used his final extra turn and so it was off to the 13th for a gripping tussle, finally edged by Ian. Congratulations to both players on a minor classic - especially to Ian for playing consistently well throughout and winning the tournament having conceded 44 extra turns over 6 games!
1st Ian Norris (Phyllis Court)
2nd Peter Dowd (Northampton)
3rd Julie Tremble (Guildford and Godalming)
---