Joe Prinold won the Surbiton Midsummer Handicap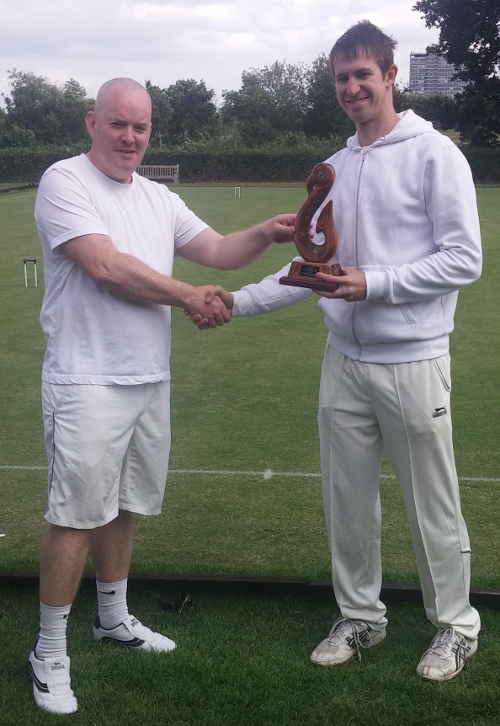 Joe Prinold receives the trophy from manager Sam Murray (Photo: Unknown)
by Sam Murray at Surbiton Croquet Club
21 June 2015 (
AC - Handicap
)
Twenty six players gathered at Surbiton for the annual Midsummer Handicap Tournament on the 20th and 21st June. Whilst most were local, visitors from as far afield as Fylde and Bowdon were also welcomed. Regular manager Timothy Dutton QC was unable to extract himself from the Bar, so Andy Dibben and Sam Murray heroically volunteered to fill the breach. Happily, they were able to secure QC's hourly rates for their time replacing Timothy, and for the first time in the tournament's history, the management arrived on time.
Weather was mixed, but better than forecast. The lawns were of decent pace, whilst the hoops were generous. Happily for the interim management team, a clear winner emerged, and no complicated deciding mechanisms were required, with Joe Prinold of Surbiton winning each of his five games, earning a cut in his handicap from 14 to 10. Narrowly behind on four out of five was local favourite, Gina Lewis.
Excellent catering from Alec, Jenny and Monica completed an enjoyable weekend.
---