Roger Tribe won the COWhorn; Robert Wilkinson won the COWbell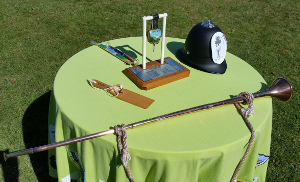 COWhorn Punning Prizes (Photo: Dave Kibble)
by Roger Wood
6th August 2015 (
AC
)
Pressure on slots in the fixtures' calendar either side of the beginning of August seems to have intensified in recent years. Indeed in 2014 this event received only 6 entries and so was cancelled; 10 entries for this year's 33rd staging allowed it to go ahead but with the lowest turn out since its inception. That said the players, half of whom were COWhorn virgins, were able to enjoy fine weather, no double banking and best-of-3 matches for both semi-finals and final.
The knockout for the COWhorn was dominated by Roger Tribe playing beautifully tidy controlled breaks which, once established, never looked like going awry. Only Robin Brown succeeded in taking a game from him. The final against Luc Berthouze was played as super-advanced. In the first game Roger went to 4-back in turn 8, Luc made a leave at hoop 1 from the contact, Roger shot and missed, Luc made hoop 1, missed his 6 yard return to end up close to Roger's hoop 1 ball and Roger finished with a neat triple. The second was more closely contested. Luc got the first break with blue only to miss a short roquet after hoop 6 allowing Roger a 5 yard lift shot to take red to 4-back. A short sequence of misses by both players ended with Luc taking black to 4-back, Roger missing the lift, Luc taking blue to the peg, Roger hitting the lift and finishing with another orderly triple.
Meanwhile Robert Wilkinson, having narrowly lost his first round knockout game to Dave Kibble, spotted the Ace Peeler's helmet, announced himself determined to win it and proceeded to do so in impressive style by beating all seven of his Swiss opponents (6 with peeling finishes, including 3 consecutive +26tp wins) and playing all the other entrants apart from Roger Tribe. With two trophies won he then completed a unique hat-trick by also becoming the recipient of the COWpat (awarded to the first loser in the chain starting with the loser of the final of the knockout).
Knockout for the COWhorn
Roger Tribe
Roger Tribe +20stp
Roger Tribe -6 +22 +15
Roger Tribe +25tp +5tp
Graham Pegley
Robin Brown
Robin Brown +5tpo
Sam Murray
Sam Murray +3
Andrew Gregory
Dave Kibble
Dave Kibble +3
Nigel Polhill +9
Luc Berthouze +17 +17
Robert Wilkinson
Nigel Polhill
Luc Berthouze
Luc Berthouze +14
Liz Farrow
Swiss for the Cowbell
Winner: Robert Wilkinson (7/8)
(4/6) Sam Murray
(3/5) Dave Kibble
(4/7) Robin Brown
(2/6) Graham Pegley
(2/7) Andrew Gregory
(1/6) Liz Farrow
(1/7) Nigel Polhill
Ace peeler: Robert Wilkinson; runner up Roger Tribe
COWpat: Robert Wilkinson
---