Peter Dowd won the Guildford & Godalming B-Level Golf Croquet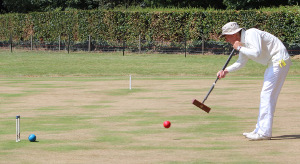 Chris Heath trying a long jump. (Photo: Mike Huxley)
by Mike Huxley at Guildford & Godalming
8 August 2015 (
GC - Championships
)
A strong field of 16 competed in the third annual running of the MARE Cup, Guildford and Godalming's round of the national B-level series. Conditions were challenging: hard, fast lawns and rigid hoops placing a high premium on accuracy and touch, and strong sunshine beating down on the competitors.
Andrea Huxley (G&GCC) was the morning's standout player, being the only person to win three games in the four all-play-all groups of four. A minor upset in the first round saw Joan West (G&GCC, 6 handicap and three weeks short of her 90th birthday) beating Peter Ross (Letchworth, 2 handicap and just a little bit younger). And I had warned him to be on his guard!
The top two players from each group proceeded to the quarter-finals. These having been resolved, the semi-final line-ups were: Andrea Huxley (4) v Peter Dowd (3), and Chris Heath (2) v Peter Ross (2). Peter Dowd had a narrow 7-6 victory over Andrea while Chris wasn't having it much easier against Peter Ross, eventually winning 7-5.
So to the final between Chris and Peter Dowd. They had met earlier in the day, having been drawn in the same group. Chris had prevailed then but in the reprise a determined Peter gradually crept away into a 6-3 lead. Some fine clearance shots were instrumental in making the 10th hoop particularly hotly contested. Chris won it but, very shortly after, Peter closed out the game 7-4.
Congratulations to all the entrants for dealing with the difficult conditions, and to Peter Dowd for his 2nd B-level tournament win.
1st Peter Dowd (Northampton)
2nd Chris Heath (Guildford & Godalming)
3rd Peter Ross (Letchworth)
4th Andrea Huxley (Guildford & Godalming)
---