Ian Burridge won the 2nd London Masters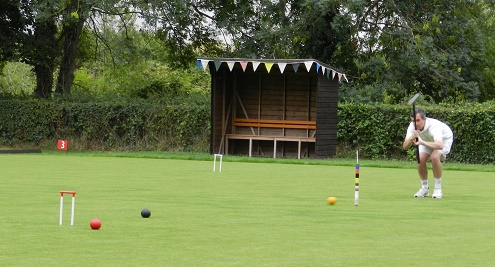 Ian's winning shot ... with a distinct style (Photo: Don Beck)
by Don Beck (Manager) at Surbiton
15-16 August 2015 (
GC
)
Two players stood-out this year in their performances and Lionel Tibble, the holder, met Ian Burridge in an excellent final. In their only previous meeting in the Worlds GC 2011 Qualifier Lionel won and took the last place available in the main event (by coincidence also played at Surbiton).
This time, Lionel took the first game at hoop 13.
In the second, Ian won at hoop 13.
The third featured more accurate play, more good hoops. When Ian won 10 to make it 5-5, there was still an expectation that Lionel's grater experience would see him retain his title. It was Ian's clearance at 11 running down to 12 and then taking 11 with a very good hoop shot that saw him win the decider 7-5.
And to think he only entered because his son wanted to play!
Results are available on CroquetScores.
---