Leo Hawkins won the Selectors' Weekend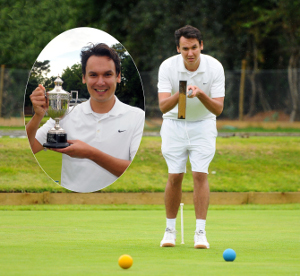 Leo Hawkins, winner of the Selectors' Weekend (Photo: Chris Roberts)
by Colin Hemming at Colchester Croquet Club
13 September 2015 (
AC
)
The 2015 Selectors' Weekend took place at Colchester Croquet Club between 11th and 13th September. For those of you unfamiliar with the format, a flexible Swiss is played on the first two days, with the four leaders, plus any others with the same win percentage as the fourth player, going forward to a knockout competition on day three, with the remainder of the field continuing to play the Swiss as a consolation event.
At the end of day one, joint overnight leaders in the Swiss at Colchester were Omied Hallam and Colin Hemming, both unbeaten. There was only one peeling finish: Tim Jolliff beat Rich Waterman +23tp.
On day two, Omied continued his strong form whereas Colin fell away, losing all his games. Meanwhile, the well-fancied Alan Chance won all his three games, and at the end of the day the four players qualifying for the knockout were, in order of merit as far as qualifying goes:
Alan Chance 5/6
Omied Hallam 5/6
Nick Steiner 4/6
Leo Hawkins 4/6
So Sunday's knockout games were to be
Alan vs Leo
Omied vs Nick
Drama the next morning, however, when the top qualifier Alan Chance phoned in sick, unable to continue. This left one knockout place to fill, with no fewer than six players on three wins out of six. To follow strictly the rules of the competition and include all six would have been quite impossible, especially with rain forecast, so manager Colin Hemming arranged a two-ball playoff competition stating with two balls at corner 4 and for hoop 4. He himself won that competition and so "qualified" for the knockout, the results of which were:
Semi Finals:
Omied bt Colin +13tpo
Leo bt Nick +5
Final
Leo bt Omied +2
The rest of the field continued play in the Swiss as a consolation event. This was won by Tim Jolliff with five wins from eight games. Tim also won the (strictly no-trophy) peeling prize with two TPs. The only other peeling finish of the weekend was Omied's TPO in his semi-final.
---