Nottingham beat Phyllis Court at Cheltenham to win the Murphy Shield 5-2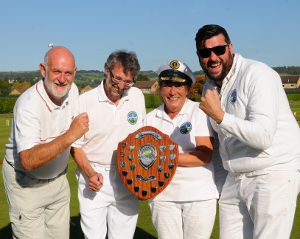 The Victorious Nottingham Team (Photo: Chris Roberts)
by Chris Roberts at Cheltenham Croquet Club
26 September 2015 (
GC - Inter-Club Shield
)
Nottingham were just too strong for Phyllis Court and won the CA's Inter-Club (Murphy) Shield final for the first time on Saturday. The sun shone more brightly and warmly than anyone had a right to expect in late September, Cheltenham's courts were fast and true, and the presence of the A-Class players from Ashby and Surbiton, contesting the Inter-Club Championship final on adjoining lawns, made the day a really special one.
For Phyllis Court, this was 'the big one' - the first time they had reached any National Final - and it is quite an achievement for the club from Henley-on-Thames, which has a large social playing membership but relatively meagre resources when it comes to competitive play, especially at this restricted level. Nottingham on the other hand, are used to such limelight, and this time it was the occasion for their 'supporting cast' to take to the centre stage, so often occupied by their luminary club-mates.
In the absence of Patricia Duke-Cox, ever present Cathy Turski took the captain's role (and skipper's hat), and with rising AC star Omied Hallam (handicap 2) playing at number 1, there was much interest in seeing him take on the relatively unfamiliar GC game. He took a while to get to grips tactically but there was no denying his stroke ability as he confidently and accurately whacked the balls around and 'roqueted' more often than not. Together with partner Chris Jackson (3), they squeaked the first game of the doubles rubber 7-5, but then lost their way in the second, when out thought and out maneuvered by the experienced Frances Colman (3) and National B-Level Series stalwart Roger Goldring (3).
By the deciding game, Hallam had 'sussed it out', and with good first ball accuracy and a fortunate 'two score with one shot' at hops 7 & 8, it was enough to give Nottingham first blood 3-7. Meanwhile, in the morning singes of the junior half of the fixture, things were just as tight, and both rubbers went to a deciding third game. Phyllis Court's Raymond Wood (4) came through to level the match score with victory over Bob Thompson (4) and then after a very long tussle (that included what should have been the lunch break), Nottingham's Turski (4) finally got the better of a game Mary Gaynor (4).
So it was advantage Nottingham at 2-1 at half-time and fierce competition was anticipated in the afternoon.
Hallam, Jackson and Turski all won their first games putting Phyllis Court under tremendous pressure, but there was no dampening the obvious pleasure that Hallam and Colman were having in the second game of their contest.
The pair bantered well as they traded hoops alternately right to the 13th, where an excellent shot to position by Hallam from the jaws of 12, effectively won him the game and rubber, and took Nottingham to needing just one more win for the title.
This came moments later when Jackson's consistency couldn't be matched by Goldring's clearance success rate and the Nottingham man won in two games.
Thompson added icing to the cake with a two game win over Gaynor, but Wood won (again in two) against Turski to give Phyllis Court something from the afternoon.
Competition Director John Bowcott presented the Murphy Shield to the Nottingham team who were then invited to share the champagne that had been held on ice by their vanquished opponents small band of supporters.
Congratulations to Nottingham on a very deserved victory.
Nottingham 5, Phyllis Court 2.
(detail - Nottingham scores first)
HALLAM & JACKSON Omied & Chris beat COLMAN & GOLDRING Frances & Roger 7-5, 3-7, 7-3
THOMPSON Robert lost to WOOD Raymond 4-7, 7-3, 4-7
TURSKI Cathy beat GAYNOR Mary 7-2, 5-7, 7-5
HALLAM Omied beat COLMAN Frances 7-3, 7-6
JACKSON Chris beat GOLDRING Roger 7-3, 7-4
TURSKI Cathy lost to WOOD Raymond1-7, 4-7
THOMPSON Robert beat GAYNOR Mary 7-4, 7-2
---